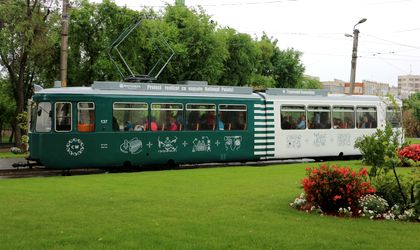 Fab Lab Iasi has launched in Iasi 'Tramvaiul CoWorking,' the first co-working tram in Romania. The 43-seat tram, which offers free wireless internet, plugs for laptops mobile phones, took two months to develop.
The tram is a GT4 type and transports around 3,200 people daily with an average age of 22. The itinerary connects Baza 3 to Copou and runs in the vicinity of Al I Cuza University and the Tudor Vladimirescu campus pertaining to the Gheorghe Asachi Technical University.
The co-working tram is part of a local initiative designed to support the local community involved in technology initiatives and was developed in collaboration with local partners and volunteers. This is the 11th means of transport customised as mart of the project.