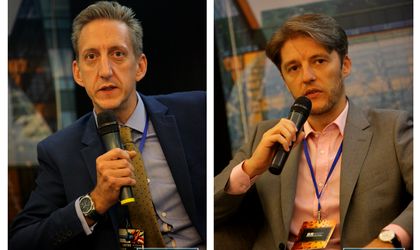 Speaking at Country Focus, Business Review's two-day event dedicated to the most active business communities in Romania, panelists on the panel discussing British presence in Romania shared with the audience their thoughts on the impact of Brexit on their businesses and addressed. 
For GSK, movement of people is key
GlaxoSmithKline Romania General Manager Andre Vivan da Silva gave the audience the pharma perspective on Brexit and stressed the importance of the free movement of people, which is key, especially for multinational companies with operations in multiple countries.
"On the short term, Brexit did not have an impact on our business" da Silva said, explaining that, due to the fact that 45 percent of the company's business is in the US, the impact was minimal. In fact, "the currency exchange actually brought an advantage on the short term," he said, adding that Brexit did not have an impact from a senior management point of view.
According to da Silva, movement of staff is of great importance for the company, which has 9 manufacturing sites in the UK and 18 in Europe. "We are involved in a huge amount of cross-referencing in terms of technology, as we move 44 million packs in Europe per month. If you introduce double taxation, you can imagine how much it will impact our business," he explained.
Secondly, da Silva underlined the importance of R&D sector, "a huge sector of investment for us as a company". "UK is our major site for investment, but Europe is second," he said, adding that "we need to understand how much we will invest where because we transfer a lot of people. Also, if you don't operate in a specific market you lose the future ground, the awareness of that market.
Tibett Logistics to focus even more on Romania
"Our business focus is on Central and Eastern Europe, therefore Brexit itself does not have a big effect on our business, apart that we will focus more on Romania," he said. The company employs 1,500 people in Romania in the logistics sector. "The biggest single risk is the workforce in Romania. I've been working here for 10 years and in terms of management, professionals – my team are more motivated to work, more than other people I've worked with in Germany or France, for instance. So the skilled management is there. The challenge is to keep these people in Romania," he said.
Reflecting his company's current focus, he called for Romanian authorities to make it easier for foreign workers to come to Romania. "Whereas in the UK we are closing in on ourselves, I urge Romania to do exactly the opposite. It is essential for manufacturing. If the investment rate is to continue, it will need more people. If that level of growth is to continue, you need to facilitate foreign workers to come to Romania," he concluded.
For IT companies, location is less relevant
We will adapt to Brexit, Claudiu Constantinescu, Endava Delivery Unit Manager said, adding that the UK's exit from the EU is expected to have a small impact on his business.
"Firstly, it is difficult to make a big company agile, but we managed that. Obviously, we are quite adaptable and managed that. Brexit is one of the things we have to adapt quickly to.
Secondly, we also do a lot of digital transformation, as the whole market. Therefore, it becomes a bit irrelevant where people are located. So Brexit is irrelevant in our business environment as they will still be able to work together across borders and across projects without having to move.
And the third reason: we have a distributed delivery model, across Europe, also we have a presence in South America and will open in Asia Pacific so we can balance demand and supply, and our clients, being multinationals, will also be able to shift their demands."