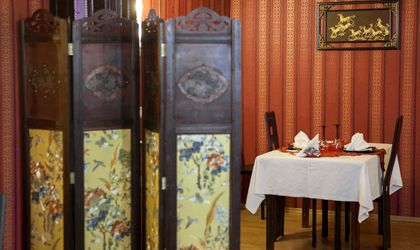 Q. What have Viet Nam and restaurant Thang Long got in common? A. Absolutely nothing ! I have given up trying to find just one gastronomically authentic Asian restaurant in town, and this joint ranks amongst the worst rubbish I have encountered.
But as this is the only Vietnamese chophouse in town, I had to check it out. Vietnamese people are both fascinating and unique in character. They are of Napoleonic stature, which means they average only 1.4 m. in height, and yet this proud warrior nation beat both France and the USA in war. That makes them pretty fascinating to me. Their cuisine is unique, as although they share the same herbs and spices as neighboring Thailand, they use them in an entirely different manner.
So off we go to Thang, and share with me a comedy of errors. They can seat 30 covers, and on a Saturday night the place was nearly full. Their clientele was a scruffy lot who probably think that any restaurant serving bowls of rice must surely be Chinese. The cheap prices there were probably the magnet that drew them in.
So with a packed house, it was hopelessly undermanned as there was only one waiter, who was also the owner. I would not be surprised if he was also the chef, as we had to wait one hour for our meal to arrive. Meanwhile, we amused ourselves as we watched our waiter tearing around the tables in a frenzy.
When the menu arrived, alarm bells were ringing in my head, as it revealed 120 'different' dishes. Different? They had to be kidding. For they take one dish, with rice, or without rice, or with noodles or without – and hey presto they claim it to be four dishes. But more of this chicanery later.
I asked for 'Pho', the national dish of Vietnam. To make it correctly, you prepare a soup by simmering beef bones for up to ten hours and serve it with noodles at the bottom of a steaming hot bowl. Thereafter (in the fashion of a fondue), you add to it a side dish of sliced beef, coriander and fragrant red-tipped Thai basil. But not a chance here. The beef soup tasted like a Knorr stock cube, there was no side of coriander and basil, and the beef slices were already in the soup.
I remonstrated over this with our waiter/owner/chef, and his reply was jaw dropping: "You are correct BUT THIS IS ROMANIA, NOT VIET NAM , SO I WILL DO IT ANY WAY I LIKE." In other words, he was treating his customers with contempt, assuming them to be too ignorant to know the real thing from a fake. Ironically, he may have been right.
And there was no 'real thing' here. Not one Vietnamese dish. He added with self-effacing honesty, "It is too much trouble to import goods from Vietnam." I can list 95 separate Vietnamese herbs and spices, but this cheating house uses only: garlic, wood ear mushrooms, tomato, onion, carrots, chili, bean sprouts, lemongrass, marrow and fish sauce – all of which are sourced from his local Bucharest supermarket.
So we missed such blended Vietnamese and Thai classics as spring rolls wrapped in a lettuce leaf lined with fresh aromatic Viet mint (kinn gioi) all accompanied by a dipping dish (nam prik) of fish sauce, garlic, lime juice and hot chili seeds (prik khi nu). Clearly it was too authentic to put on the menu. So too were other classic dishes, namely a selection of dumplings such as 'banh xeo' made from rice flour stuffed with minced pork and shrimp, steamed and served in a banana leaf. Nor did they offer a selection of baked and stuffed pastries. Oh, what's the point of my frustrating you with all the dishes they should have made, but did not?
Instead we had to suffer stir fried beef with vegetables and ludicrously described as containing vodka which was indiscernible. This was one of the same dishes stretched out into seven 'different' dishes by the addition or omission of either tomato, or pineapple, or mushrooms etc.
I shall not bore you further by reporting on the other dishes we had. Suffice it to say they were all bland, all tasting the same, and all lacking in flavor. They cried out for the harmless flavor enhancer, monosodium glutamate (MSG), but of course the house did not have it.
At this point I must challenge the ludicrous and widely held assumption that all Chinese, all Japanese, all Thais and all Vietnamese are experts (or are even cooks) in their own national cuisine. It is all too evident that Thang Long appears to know nothing about Vietnamese food.
Michael Barclay
Michaelbarclay32@gmail.com