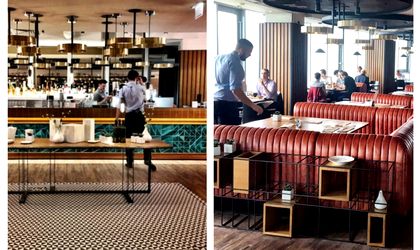 It's difficult for me to say anything negative about this, the newest restaurant in town- simply because the staff is so, so cool and almost loving towards you as a customer that it hurts. And please consider that to be a compliment. They are all superb.
You are met by a sweet girl on the ground floor at reception, who takes your name and beams it up to mission control on floor 36. There, you will be met at the lift doors by lovely Lavinia who will table you with charm and courtesy.
But that is the best part, for much about 'Sky' needs an overhaul. The décor needs to be reviewed. This means faux leather brown padded seats that would look dated even in the 1970's. Worse still was the clientele. OK, I went there for lunch and it is possible that the diners would be a lot more sophisticated crowd at nighttime, but hell, these were not my kind of people.
Most of them were nerds and geeks. That means girls down dressed to scruffy ragamuffins, and men wearing the same denim and tee shirts (sans shower) that they slept in for days. So I am a snob and I don't apologize for it, but my ever patient Blondie pointed out that we were in 'technology-central Bucharest' whereby one look at the tenants of the neighborhood reveals a mini Romanian 'silicon valley,' whereby dressing like a scruff is de rigueur.
But let's look the place over. It is on the top 36th floor of the tallest building in Romania. From the ground, Bucharest is not the prettiest city in Europe. But from the air, all this city's sins are both hidden and forgiven. The view is a delight and it added a calm ambiance to our lunch mood.
So, away to the menu: it was adventurous and I could not find a fault with any of their dishes- provided that the kitchen could cook them correctly. I started with an asparagus and truffle risotto with  mushroom foam. The house correctly used Arborio rice, a big grain designed for risotto so it absorbs all the moisture without collapsing the rice into a mush. I asked our waiter if I would get fresh truffle or imitation truffle oil.
His reaction was commendable by his demonstration of loyalty to the house, tempered with enthusiasm. He was almost shocked at my 'impertinence' and invited me into the kitchen to witness the chef shaving fresh truffle into my dish. I did not accept his offer, but bravo waiter. The resulting risotto was absolutely perfect.
Blondie chose a simple eggplant salad which was far from simple. It was a layer of pureed aubergine, topped with chopped tomato, together with a layer of mayo and spinach puree with a perfect side of sugar-caramelized peppers and toasted bruschetta. She rammed it into her face so quickly that I can only assume that she hugely approved.
But my satisfaction was short lived when I got my seafood soup, which was a disaster. The chef made the classic mistake of cooking the octopus, mussels and prawns simultaneously, oblivious to the fact that they all reach their perfection at different temperatures. Hence the prawns were as hard as stone and the mussels had shrunk to little bullets due to overheating. The dish cried out for lashings of garlic and white wine, but there was none of it!
By now we were being 'buzzed' by happy staff that were not being intrusive, rather they gave the impression that they really did care about us enjoying our experience. However, my next experience was somewhat sad, as I ordered a superb 'pork with juniper berries, decorated with apple chutney and honey/chili peppers.' The combo was an excellent creative blend, but I was let down by my pork.
It was cooked 'sous vide,' namely the meat was boiled in a vacuum pack and subsequently briefly grilled. No, the pork was too dry and I blame the meat supplier. The kitchen performed their task professionally.
By now, Blondie was doing the usual girly thing by craving a desert. The desert menu was excellent, and I can only urge you to Google it to save me reporting it to you.
However, we were told that it would take 15 minutes to prepare her order, as each dish was crafted, rather than taking it from a pre-prepared stock. I have no problem with this, but sadly with time pressing, we had to pass on it.
Sky offers amazing value. With starters under RON 30 and mains around RON 50, it is a 'must do' for food lovers. As it is a new joint, I urge you to give them some latitude, as their menu is dynamic and right on contemporary, as befits the age and area.
NOR – Sky Casual Restaurant, Sky Tower 36th Floor, Barbu Vacarescu Street, 0726 567 567 <<<
Michael Barclay