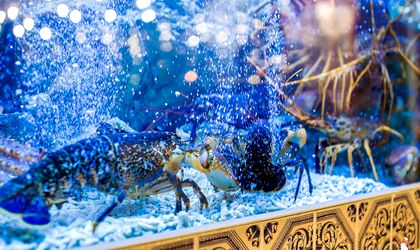 >>> Dancing Lobster, Pescariu Tennis Complex, 0770 690 886 <<<
It has been a well documented social conundrum for ages as to why natives of Latin countries cannot speak 'sotto voce'; rather, they talk at the top of their voice when speaking in their native lingo. It is all a good natured thing, and they will never change. So I am sitting in Dancing Lobster, a Portuguese chophouse, with an Argentinian family behind me, a Spanish group to my left and a Portuguese family to my right.
The chatter is deafening, and it is exacerbated by a high ceiling which raises the decibel level to an echoing cacophony. Read on and you will see why this example should not put you off; rather consider it to be part of the house's eccentric charm.
But there was more eccentricity to come, for as I spoke to our waitress in my 'questionably perfect' Romanian lingo, she replied, "Sorry, I don't speak Romanian, only English and Portuguese." For Romanians, there were Romanian waiters on hand. When I told her I was a former chef, she almost dragged me over to meet her chef, who spoke only one tongue – Portuguese. This fine fellow waved me to his kitchen crew, who were all Portuguese!
Something told me I was about to experience authentic Portuguese cuisine, and pretty damn good it was too! As befits a maritime nation, fish and shellfish rank high in the country's diet. In order to keep the cuisine accurate, the house flies in all its fresh produce directly from Portugal, with the result that it offers you the widest selection of seafood in the land.
And to better prove my point, amongst the various goodies on offer, there were: live crab (you can select it from the fish tank), prawns (either scarlet ,Mozambique or tiger), fresh raw lobster tail, John Dory, snapper, red scorpion fish, cuttlefish, grouper, turbot, octopus, clams, Monkfish, and more.
So let's look at the menu. For starters there were: moules au gratin, fresh crab meat pate, fried cuttlefish with mustard mayo, squid in olive oil and coriander, and fresh clams in wine and coriander. I chose the lobster tail, which thankfully had never seen a freezer, hence it kept its flavor. But at RON 40/100g it was hellishly expensive. It came with a side of melted butter and garlic and it was every bit as good as I had anticipated.
Off to the mains, and I had the national dish of Portugal: bacalhau, fresh cod cooked in a hard shell of salt. The cod steams itself inside the shell, which when cracked open reveals the most tender, flakiest fish imaginable. There were two rice dishes, a choice of monkfish or octopus. Be aware that as soon as the octopus is landed, the fisherman must pound the dead octopus over and over on the rocks to tenderize it. I have no doubt that the house supplier adhered to this ancient practice.
But I was let down by my cataplana, a casserole containing a huge selection of shellfish. I prefer the French way of preparing this: cooking it in wine with a copious amount of garlic and topped with coriander. All the above were missing, but to be fair to the house, its version is the true way.
By now I was oblivious to the exuberant shouting emanating from the happy, excited tables all around me, as I was concentrating my mind on the amazing range of fish, and to be honest I was making a mental note of what to order on my next visit.
They had a few seafood pasta dishes, and a selection of meat steaks plus desserts. But I had no interest in these, so I cannot report them to you for their quality. They have an open kitchen, so all the crew are approachable and if you ask them to 'customize' by adding something to your dish before it is cooked they are friendly enough to accommodate such a request.
Michael Barclay