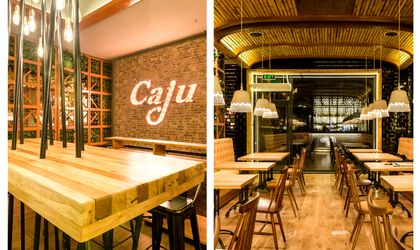 Okay, I nominate Caju as the best NEW chophouse this year. Naturally you will point out that the year has just begun, but nonetheless I am confident it will reign for a long time before a new, young contender takes its crown.
Caju Brasserie
Str Nicolae Colescu 16, tel 0751 144 545
It lives in the former premises of the much missed Byblos chophouse behind the Atheneum. Those of you old enough to remember Byblos will be amazed at the physical makeover of the premises which is nicely contemporary, although I hated the inclusion of plastic ivy plants.
The new clientele is a delight. Everybody cool, young, attractive and professional. Not one shaven-headed, gold chain lout in sight; although sadly, as the House becomes more famous it will soon attract this nouveaux riche trash, so go there now whilst you can still dine in social comfort.
I make a point of never reviewing a brand new restaurant, as I want to give the House a chance to make its initial mistakes and thereafter to correct them. But I do not extend this period of grace to Caju, as the management has over 20 years of experience in running top restaurants, so I will take no prisoners! They can hit the ground running, and I write this one month after the opening.
The menu has clearly taken months to perfect. Almost every dish is priced at less than RON 50. I know the small profit margins in this industry – and given the quality of the menu, together with the overheads involved in running a restaurant in this area, I am amazed at the financial wizardry necessary to give you such bargain prices. Harry Potter, eat your heart out.
To its eternal credit the House is confident enough to proudly publish the menu on the net, so Google it yourself and save me some valuable time in listing all the options that Blondie and I missed out on. Let me concentrate on what we ate, which was quite superb.
I had a starter of 'burrata', a huge potato-sized bulb of mozzarella and cream with truffles and tomato cubes. I asked our waiter if it was real truffle or truffle oil. (FYI, truffle oil contains no truffle whatsoever and is made from a vile petroleum chemical, 'dithiapentane'). Run from a restaurant which tries to fool you with 'truffle oil'. But Caju gave me pureed fresh truffle and I marveled at how they could do this at a bargain price of RON 36.
Blondie chose a simple but superb tomato cream soup, but being the cunning rodent she was, she mooched half my burrata and truffle only to slap it into her soup. Her result was a culinary sensation. Clever (but greedy) girl.
She then chose a 'crispy baby squid with saffron risotto' at RON 38. Fresh saffron is the world's most expensive commodity, weight/weight. Costing more than gold or certain class A drugs, it is a world class luxury. And the House gave us pure saffron risotto for a mere RON 38. Thank you House, and it was excellent.
Away I dived into a perfect 'salmon fettuccini pasta in a Vermouth white sauce,' Hey, many would be confused by the difference between fettuccini and tagliatelli, with both being flat pasta. Well, so what! It was House-made pasta, a task which all restaurants should emulate as it only takes 120 seconds to cook your pasta and serve you, rather than the un-skilled Bucharest norm of making you wait for 20 minutes whilst the lesser restaurants boil up shop-bought dried pasta.
I closed with a 'coconut samui shrimp' in a sauce containing the unlikely combination of oyster sauce and red curry paste at RON 52. It was pleasant enough, but the red curry was nowhere near strong enough and I had to add Tabasco to give it a kick.
Apart from the good food, another attraction is the excellent, fair prices .Caju will take off and I hope they do not increase those prices as a result.
Michael Barclay
Mab.media@dnt.ro