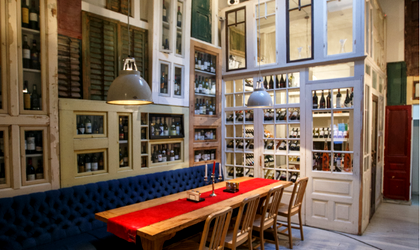 When the management of Aubergine fell out of the stupid tree, they must have hit their heads on every branch on the way down. The evidence is legion to behold. Take the name, for example. It is about as inspiring as calling a restaurant 'onion' or 'potato'.
But worse still is their menu, which treats the customer like a culinary retard, for every dish has a picture of it to help you to order. So, there was a plate with long white strands of food. Can you guess what it was? Yes, it was PASTA. And here comes another brain teaser: a plate of yellow paste with chickpeas adorning it. Oh come on people, try hard. Yes, you got it, it was HUMMUS. This patronizing approach to customers who may know more than the House gastronomically is utterly offensive.
Which brings me to why I am eating in this doom-ridden joke. My best friend, a lady of impeccably good taste, who has dined around the world (and who can cook), recommended it. What was she thinking of at the time?
The décor is abysmal with all the walls having broken down doors from a construction site demolition dumpster nailed together as wooden wallpaper. The furniture was second hand and mismatched. This would have been considered urban chic in the 1960s but now it is just cheap and tacky – made all the more incongruous with an expensive menu!
But just as tacky was their clientele. Typically "Lipscani" people, they were anorak and hoodie folk wearing scruffy denims and dirty trainers. I wondered if they had checked their rucksacks in at the door. Which again amazed me as to why my dear friend, who epitomizes haute couture and drips in designer labels, could feel comfortable in a place filled with scruffs. Maybe I went there on the wrong day, but I doubt it.
So off to eat. Rather than take my best friend, who is hopelessly spoiled and pampered, I took my long suffering Blondie. I asked for a glass of house red wine, which although it was perfectly acceptable in quality, the House screwed up by serving chilled and at RON 22 for a mere glass.
Blondie asked for water, which kicked in at RON 9, and for some bread, which relieved my pocket of RON 14. The only thing cheap about this place was the place itself. And away to the food.
We were forced like children to order from pictures, so Blondie ordered a picture of yellow hummus, which came to us as a watery white paste of tahina at RON 35. It is impossible to screw up hummus, but the House did it by omitting the flavor and texture element of chickpeas, garlic and lemon. But worse was to come: she wanted to scoff a chicken pate from the ludicrously priced RON 40 for a sample of four miniscule absurdities. I expected it to be pink with livers and meat, fragrant with garlic and herbs and tempered with wine, sherry or brandy.
Not a chance. She got a lump of black (yes, read that color again) crude composite of mashed chicken meat.
I ordered a picture of seafood pasta (at RON 42), a simple dish renowned the world over for its pungent scent of garlic balanced by a white wine sauce. Bullshit, as neither was present, nor was there any seasoning whatsoever. Also absent was the 'fresh' tomato base the waiter promised me, replaced by a watery juice of canned tomato. In order to perk up this culinary aberration, I ordered a picture of shaved Parmesan. But what arrived was a ghastly side of Padano Grano, a cheap, cheating imitation of the more expensive Parmesan.
This meal was going downhill like a runaway train, so when Blondie ordered her picture of 'Moroccan chicken' at RON 40, the train had flown past the station. It was two baby legs of chicken overpowered with cinnamon on a bed of couscous. Get used to couscous as more lazy Bucharest chefs discover that it takes seven minutes with a splash of boiling water to re-hydrate the dried stuff (available in all supermarkets), as it is much easier than boiling rice as an alternative option.
I must be a sucker for punishment, for I ordered a picture of sea bass on another bed of sleepy, lazy couscous at a ludicrous price of RON 62. Although the fish was perfectly cooked, it was served skeletal intactus, leaving me to pick the bones out of my teeth, rather than savoring the fish. Another failure.
I can find no redeeming features about this House, irrespective of the raves posted on the utterly discredited Trip Advisor, which allows all the mates and family of restaurateurs to use it as a shoddy hype vehicle.
Michael Barclay