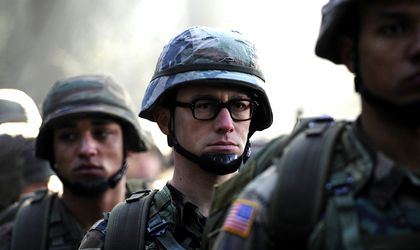 Debbie Stowe
DIRECTOR: Oliver Stone
STARRING: Joseph Gordon-Levitt, Shailene Woodley, Melissa Leo, Zachary Quinto, Tom Wilkinson
ON AT: Cinemateca Union, Movieplex Cinema Plaza, Grand Cinema & More, Grand VIP Studios, Cine Globe Titan, Hollywood Multiplex, Cinema City Cotroceni, Cinema City Sun Plaza, Cinema City ParkLake
Edward Snowden is the world's most famous whistleblower, so his is a fascinating story, even if director Oliver Stone can't stun his audience with a big reveal. Events begin with the title character (a well cast and highly plausible Joseph Gordon-Levitt) holed up in a Hong Kong hotel room, spilling the beans about America's vast spying program to Guardian journalists. The movie then unfolds in chronological flashbacks, detailing the computer whizz-kid's rise from army dropout to top CIA programmer – and the shocking exposé that made him one of the USA's most wanted fugitives.
Though not as reviled as fellow super-leaker Julian Assange, Snowden remains controversial. To some he's an American hero, sacrificing a lucrative job and easy life to uncover the abuses the government was perpetrating on millions of innocent citizens. To others, he's a traitor, compromising crucial US intelligence operations and enabling terrorists to operate more effectively.
Stone, however, has chosen not to acknowledge this ambiguity: his portrait is one-sided, presenting the ex-CIA hacker as brave and noble, and painting his higher-ups in the agency and government as the bad guys. There's even an overemphasized romantic subplot, which is cutely enough done, but something of a needless sideshow.
However, while some may see Stone's Hollywood treatment as a missed opportunity to take a more nuanced look at one of the most explosive stories of the internet age, it's still a riveting depiction of the National Security Agency's hugely creepy surveillance program.
An opening caption positions the film as a dramatization, so we can only surmise how much is factual, but even if it's a fraction, it's a horrifying prospect – and one which will have you scrutinizing your laptop camera.
Eye-opening and enjoyable, this is not the Snowden movie some wish Stone had made, but on its own terms, it's a solid take on the surveillance scandal of our times.