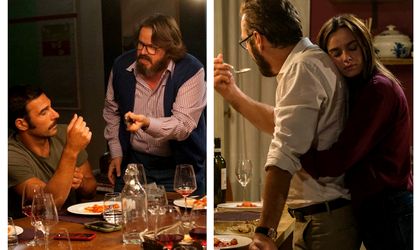 By Debbie Stowe
DIRECTOR: Paolo Genovese
STARRING: Giuseppe Battiston, Anna Foglietta, Marco Giallini, Edoardo Leo, Valerio Mastandrea, Alba Rohrwacher, Kasia Smutniak
ON AT: Cinemateca Union, Hollywood Multiplex, Cinema City Cotroceni, Cinema Muzeul Taranului, Cinema City ParkLake
This is the intriguing premise of Italian director Paolo Genovese's 2016 comedy-drama. A group of old friends sit down to dinner together: two sets of parents, a pair of newlyweds and a perennially single pal due to introduce his new girlfriend to the gang, Their lives aren't perfect, but their problems – a troublesome teenage daughter discovering boys, an infirm parent, some work stress – seem no more serious than those faced by the average middle-class forty-something.
To liven up the dinner party, a game is proposed: everyone puts their mobile phone on the table, and all incoming communication is made public to the group – calls played on loudspeaker, emails, SMS and WhatsApp messages read aloud. Because, if the friends know each other as well as they think they do, and if they're all as honest as they claim to be, what could possibly go wrong?
It's a juicy set-up, not least because it invites the viewer to imagine how well – or badly – they would fare in a similar scenario. Is your private life whiter than white, or a charade that would rapidly come crashing down if your secrets were exposed?
Aside from some brief opening scenes of the guests getting ready and travelling to the home of the host couple, the action unfolds entirely in one apartment. Such one-location movies can feel inert, and it's true that Perfect Strangers could easily be a theater play. In that respect, and in its tale of the surreptitious sexual shenanigans of bourgeois couples (no, it's not a spoiler – they're Italians, what else was going to happen?), it's reminiscent of the 2004 Mike Nichols film Closer, based on the Patrick Marber play. However, the lively Latin vibe prevents proceedings from becoming too stagey.
A greater flaw is the contrived narrative – whatever sordid skeletons a group has in the closet, the chances of texts or phone calls relating to all of them coming within a two- or three-hour window late one evening are remote. One character even gets an awkward out-of-hours response to a business enquiry (though the implausibility of its arrival time is at least remarked upon).
However, Perfect Strangers is a high-concept film and, provided that leeway is duly given for the improbability of the timeframe, this doesn't spoil the fun. Genovese's story also includes a imaginatively wide range of foibles and failings, from the obvious romantic deceits to filial disrespect (in Italy, home of the mama's boy!), family troubles, and even darker deeds.
Watching these vibrant Italians digest each other's faults throughout dinner is as indulgent and succulent a pleasure as the food they're doing it over.