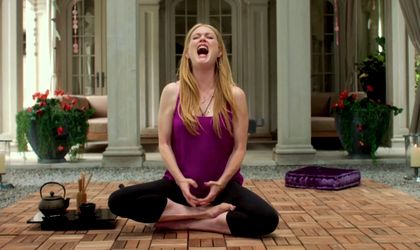 Behold: Hollywood's heart of darkness revealed in all its cynicism. Director David Cronenberg is best known for twisted psychological studies and cult horror flicks such as Crash and The Fly, but this damning Tinseltown satire turns out to be no less horrendous than getting off on traffic accidents or turning into a bluebottle.
By Debbie Stowe
At the center of the ghastliness is the ironically named Weiss family. Young Benjie (Evan Bird) is a child star, fresh out of rehab. Whether launching a foul-mouthed tirade at his manager, playing Russian roulette with household pets or cracking bad-taste jokes about Mother Teresa, his level of awfulness makes Justin Bieber look pleasant and well adjusted. The apple doesn't fall far from the tree, and we soon realize where Benjie gets it from: family patriarch "Dr" Stafford Weiss (John Cusack) is a quack to the glitterati, peddling a bizarre mix of massage, new-age mumbo-jumbo and psychotherapy to A-list screw-ups.
Stafford's main patient is fading star Havana Segrand (Julianne Moore). Being a woman on the wrong side of 40 in a deeply superficial ageist and sexist industry is the least of her problems, as she wrestles with her dysfunctional childhood. A mutual friend brings her into contact with Agatha (Mia Wasikowska), an out-of-towner burns victim in LA for unclear reasons. She's driven around the city by limo chauffeur and wannabe actor Jerome (Robert Pattinson), who in most films would be mocked as a loser but is probably the most together of Cronenberg's parade of freaks. The various characters' arcs gradually become more enmeshed as the plot – which jumps between biting satire, supernatural horror and family psycho-drama – progresses.
Cronenberg is savage in his dissection of his shallow industry, and it is this element of the film that has the strongest impact. A scene of flabbergasting Schadenfreude in which Havana celebrates the misfortune of a rival actress must be one of the most scathing Hollywood takedowns ever shot. The character of Benjie is also a monstrous master-class in child stars gone bad, tapping into a line of dead-eyed rich kids from Macaulay Culkin to Bieber via Britney Spears.
The tonal shifts from comedy to shocking violence via the paranormal give the film some unevenness, and at times stretch character plausibility to breaking point. This is a shame, as much of the Hollywood narcissism, fakery and odiousness is all too believable. Every actor who has previously worked with Cronenberg must have watched this movie with fear in their hearts, asking themselves, "Is that me?"
But regardless of the uneasy tonal shifts, this is a striking picture, deeply mordant and darkly memorable. Of an excellent cast, Moore in particular is brilliant, while Bird is horribly convincing as the LA super-brat. Oscar Wilde wrote, "We are all in the gutter, but some of us are looking at the stars." Cronenberg's Maps to the Stars leads straight to the gutter.
Director: David Cronenberg
Starring: Julianne Moore, Mia Wasikowska, Robert Pattinson, John Cusack
On at: Cinemateca Union, Grand Cinema Digiplex, Hollywood Multiplex