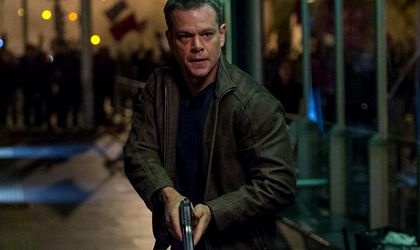 He's back! Bourne again! Re-Bourne! After sitting out the last installment in the spy franchise, Matt Damon returns as everyone's favorite amnesiac assassin.
Debbie Stowe
In the first three films – pacy, pared down Euro fare that tore up the espionage movie rulebook – Bourne (Damon) gradually put the pieces back together from his time as a top black ops killer.
The trilogy had reached closure, with Jason aware of his past and all the bad CIA apples brought to justice or dispatched, posing the question what another run-out for the somber spy, set ten years after the conclusion of The Bourne Ultimatum, could add to the narrative?
The answer is: not much. There's a new plot strand involving one of Jason's family members, but it feels extraneous after The Bourne Ultimatum's neat resolution. And the usual stuff about "bringing Bourne in" feels tired – if we, the popcorn-munching masses, can see that he's never going to be willingly "brought in", why can't the US government's sharpest minds?
Still, plot is of secondary importance in spy films, necessary mainly as a platform for the fun stunts and set pieces. And these, as throughout the Bourne trilogy, are top-notch.
There's the big, Balkan, chaotic dash where the good guys are pursued by the "asset". There's the London public place set piece where Bourne has to guide a hapless civilian away from agency snipers (in which the civilian is always fine – until he stupidly stops doing what Jason says). And there's the dramatic car chase, which is well executed, although the setting here veers a little too close to James Bond territory.
Helmsman Paul Greengrass (who directed Matt Damon in two of his previous three outings) has been careful to give the fans what they want – too careful perhaps. The movie feels like Bourne-by-numbers, a reworking of old hits without the previous narrative drive.
Still, even a subpar Matt Damon Bourne film is far superior to most of the thrillers that find their way into multiplexes these days, and there's a lot to enjoy.
We see the return of some old characters (from among the few who weren't killed off) and some intriguing new ones, notably CIA cyber whizz-kid Heather Lee (Alicia Vikander), who's annoying her superiors at the agency, notably old-schooler Robert Dewey (Tommy Lee Jones), with her newfangled ideas. Uber-Frenchman Vincent Cassel also pops up as a shady "asset".
Although this latest franchise entry didn't really need to be made, audiences don't go to Bourne movies (or spy films in general) expecting much plausibility, so it's not like Greengrass and Damon have sacrificed any artistic integrity.
This is the least memorable of the four Damon outings. It lacks the punchy twists and payoffs of its forebears, but ends on a nice Bourne-y note, with the hint of a continuation of the series. And Greengrass and Damon would need to have far worse weakest links than this watchable thriller before that becomes an unexciting prospect.