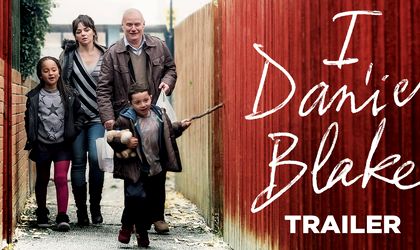 DIRECTOR: Ken Loach
STARRING: Dave Johns, Hayley Squires
ON AT: Cinema Union, Grand Cinema & More, Happy Cinema, Hollywood Multiplex, Cinema City Cotroceni
By Debbie Stowe
Daniel Blake (Dave Johns) is a Newcastle woodworker. He's also a "would worker": he would work, but following a heart attack, he's been told by doctors that his ticker can't take it.
The fifty-something widower subsequently finds himself trapped in a faceless, Kafkaesque welfare system: an assessor has deemed him fit for work, so he doesn't qualify for sickness benefits and must look for a job, which his cardiologist has banned him from doing. He could apply for other support online, but can't use a computer. There's a helpline – for which he can find the number… on the internet.
Single mother Katie (Hayley Squires) is another victim of the system. A Londoner shipped off to the north-east where she can access social housing for herself and her two children, her benefits are stopped after she arrives a few minutes late at the job center.
The unfeeling "computer says no" attitude of most of the officials they encounter leaves Daniel and Katie in dire financial straits, from which they each struggle to escape, while drawing support from their unlikely friendship. Like much of director Ken Loach's output, I, Daniel Blake is an engaging and moving story, well-acted and directed. It's powerful and passionate in its defense of the deserving poor and its condemnation of The System, particularly the Conservative government's tightening of welfare payments. And like much of Loach's output, this is also the problem: his politics, preached with all the subtlety of a punch in the face, get in the way of the story, which is otherwise refreshingly naturalistic. The good guys are a bit too good; the bad guys a bit too bad.
Audiences don't expect nuance in big-budget multiplex trash, but we do in films as serious and thoughtful as Loach's works. His viewers and actors deserve greater even-handedness.