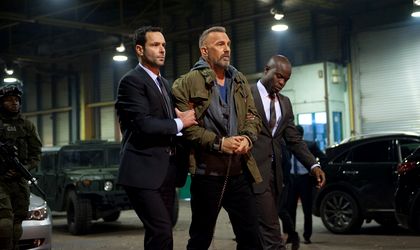 Imagine if science could implant a dead person's knowledge in the brain of someone living. This is the premise of Criminal, a pacy action thriller with a dose of sci-fi and a touching core.
CIA agent Bill Pope (Ryan Reynolds) has vital information that could prevent a megalomaniac (Jordi Molla) starting a global nuclear war – or rather he did, before the aforesaid megalomaniac's henchmen killed him. Desperate to retrieve the lost intel, Pope's CIA handler Quaker Wells (Gary Oldman) turns to maverick neurologist Dr Franks (Tommy Lee Jones), who has spent years trying to transplant the memories of the deceased into the living, with limited success.
Still, worth a try, thinks the CIA, and soon Franks (like Frankenstein – geddit?) is rolling out his dubious science on death-row sociopath Jericho Stewart (Kevin Costner), whose underdeveloped frontal lobe – the result of being chucked out of a moving car as a child – makes his brain ideal for the experimental procedure.
The titular criminal's motto is "you hurt me, I'll hurt you worse", and his morals are as bad as his grammar. Unsurprisingly he isn't keen to cooperate with the CIA's plan, preferring to use his newfound skills to his own ends on the streets of London, where the film is set.
Meanwhile, the megalomaniac continues to pursue his nuclear ambitions, with the CIA hot on his heels.
Although some movies have used similar conceits – Face/Off also put a hardened con in a body-swap scenario – the story is fresh and fun. It's also fairly ludicrous, but then a film whose main characters are called Jericho Stewart and Quaker Wells presumably doesn't have much pretense of seriousness.
Proceedings do get a little confusing: it's easy to forget exactly who or what the CIA is trying to find and why. But this is merely the MacGuffin (the term used by Hitchcock and others for the motivating plot device whose details matter little), so being hazy about it won't spoil your enjoyment.
And there's plenty of that, despite the silliness. Criminal is effective as an action thriller, with deft and tense scenes and set pieces. The London location works well, and there's a touch of the Bourne films in the spooks-on-the-loose-in-Europe theme, even if the movie overall lacks their gravitas.
There's an impressive array of acting talent, with heavyweights Costner, Jones and Oldman, and Molla is entertainingly over the top as the villain.
The characters can be cartoonish at times, and there's some Die Hard-style humor, usually involving the bad guys. But director Ariel Vromen manages to balance this with an emotional (occasionally sentimental) subplot involving Pope's family, which gives Costner a more complex role to get his teeth into, as Stewart evolves under the effect of his changed brain.
A cynic would say that his personal development is as preposterous as the plot, but once disbelief is suspended, this Criminal is certainly redeemable.
Director: Ariel Vromen
Starring: Kevin Costner, Gary Oldman, Tommy Lee Jones, Alice Eve, Jordi Molla
On at: Movieplex Cinema, Grand Cinema & More, Hollywood Multiplex, Cinema City Cotroceni, Cinema City Sun Plaza, Cinema City Mega Mall
Review by Debbie Stowe