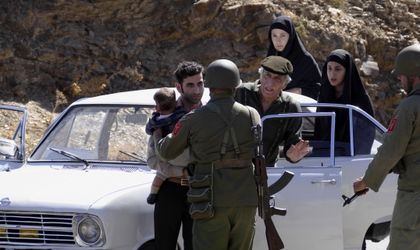 The torture of Iranian political prisoners doesn't sound like it could be easily played for laughs. But director Kheiron's comic rendering of his father's solitary confinement and beatings in the 1970s is one of the highlights of this warm family story. The French stand-up comedian also plays his dad in what is obviously a very personal project.
Debbie Stowe
After a brisk and cheery opening introducing his large clan, the narrative moves into more somber territory. Hibat's (Kheiron) political activism lands him in prison, where his refusal to kowtow to the dictatorial flunkeys of the hated and corrupt Shah marks him out for particularly harsh treatment – while earning him the respect of his fellow inmates.
Heavy jail scenes punctuate jollier sequences of family life, and the director deftly skips between comedy and drama, with no real clashes of tone. The Shah (Alexandre Astier) is humorously satirized, even as his underlings batter his opponents into submission.
After regime change, the crackdown on agitators by the incoming Ayatollah Khomeini forces Hibat, now married with a son, to flee Iran on a perilous journey to Turkey, during which the family must face both the new ruler's gun-toting border guards and the treacherous mountain conditions.
Finally settling in France, they continue to protest against developments back home, while also turning their attentions to their new neighborhood, a benighted Parisian banlieue where disaffected ethnic-minority youths vandalize local facilities and antagonize the police. What's going to happen here, I wonder…
It's not Kheiron's fault that his father grew up in Iran and moved to France. However, it does somewhat unbalance his movie: after the brutal prison scenes and nerve-racking border crossing, it's hard to get quite as excited about whether the surly youth is going to turn over a new leaf under  Hibat's guiding hand and ask for help with his CV. (Plus you pretty much know he is.) The second part of the film is therefore much less gripping.
It's also somewhat sentimental and farfetched in the miraculous impact Hibat and his wife Fereshteh (Leila Bekhti) have on their blighted neighborhood, and the story is rounded off implausibly neatly.
But the movie's heart is undeniably in the right place, and the power of the first part, combined with the story's humor and charm, makes the saccharine bits forgivable. As the credits roll, a nice final touch underlines the director's intentions, and even if what happens late on is not really plausible, you will leave the cinema wishing it were.
Director: Kheiron
Starring: Kheiron, Gerard Darmon, Leila Bekhti
On at: Elvira Popescu
Photo source: http://www.asociatiamacondo.ro/