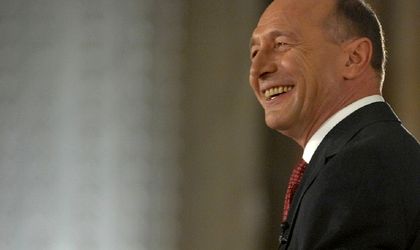 Traian Basescu, the former president of Romania that currently serves as the head of the PMP party, said that Romania should announce at the European Union Summit from Rome that it will enter the Euro zone in January 1 2019 , choosing the third scenario of European Commission president, Jean-Claude Juncker, in his speech about the EU future.
"I believe that out of the five scenarios: "We continue on the same path", so we choose the Lisbon Treaty, "exclusive emphasis on the unique market", meaning clearing the EU of any content," those who want more, do more" very probable, " less bot more efficient" , it can't be, the EU cannot be efficient through its nature, but keeps going on based on the Lisbon Treaty where you can do ore if you want to. And the last scenario "much more together", means the Union of the Member States. To have a sole External Affairs minister, to have a Government with decision for all countries, to a have a unique salary, unique taxes, that's the future that we have to dream on," said Basescu on Sunday evening, referring to the speech of the EC head.
He added that in his opinion, the third scenario will be chosen as "those who want more, do more".
"Why don't we enter the Euro zone? This is the criteria for Euro states and non-Euro states. Because for example, many times the Euro states are blocked by the position of non-Euro states, Poland, Romania, who don't have a big number of votes and all the other followers. There are 12 non-Euro states behind Poland and Romania and they block the evolutions. And the Euro states say: you have the obligation from the Treaty to enter the Euro zone. Romania would fulfill the Maastricht criteria. Why don't we propose to respect the deadline established by my Government, January 1 2019 to enter the Euro zone?" said Basescu.
He added that he doesn't know if the president Iohannis would want or not to call for consultancies on the European theme.
"If I were in the current Government, I would announce at the summit from Rome, with the occasion of celebration of 60 years since the EU beginning, that Romania chooses the third scenario and will enter the Euro zone on January 1 2019," concluded Basescu.