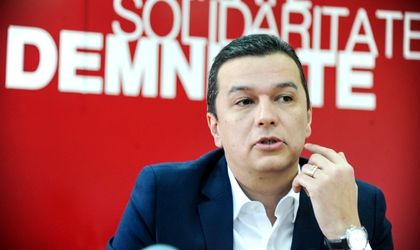 Sorin Grindeanu, 43, has been proposed as Prime minister by the political coalition PSD-ALDE, after president Klaus Iohannis refused to designate Sevil Shhaideh as PM candidate earlier this week.
Grindeanu is a member of the Social Democratic Party (PSD) and is the head of the Timis County Council.  At the end of 2014, he was appointed minister of communications in the Government led at that time by Victor Ponta. He was the vice mayor of Timisoara between 2008-2012 and was MP in the 2012-2016 period. 
He is a graduate of the Faculty of Mathematics, the Informatics department. He was enrolled in a military science training program at the National Academy of Information – the academic arm of domestic intelligence service SRI in 2013. While in Parliament, he was a member of the Committee that verified the activity of SRI.
The new PM will have a 4-year mandate, says PSD president
The head of PSD, Liviu Dragnea, said that his party proposed Grindeanu to prevent a political crisis following a vote held inside the party.
The PSD president explained that the new government can't be formed this year and that he wants Grindeanu to have a 4-year mandate.
The new proposal will be submitted to president Iohannis, who had called on the PSD-ALDE coalition to come up with a new name after he rejected Shhaideh.
Meanwhile, Dragnea said that some of his colleagues in the party had called for him to be PM, but he explained that he was not interested, also due to the legal challenges arising from such a proposal. Dragnea has received a suspended jail sentence and the law states that he can't be PM, although some of his political allies challenge this provision.
The PSD head added that Shhaideh and her children received death threats after the president refused to designate her PM.
If Grindeanu is rejected, Romania's president could be suspended, says Dragnea
Romania's ongoing political crisis could end fast if president Iohannis designates Grindeanu as PM. The social democrat will next have to form his cabinet and receive the vote of MPs. At present, the PSD-ALDE coalition holds a simple majority in Parliament, but another party could be attracted to make sure that Grindeanu's team gets into office.
On Wednesday, the Romanian currency fell against the euro, the Swiss franc and the US dollar as it was unclear whether the PSD would choose to suspend the president.
Dragnea suggested that if Iohannis refuses to designate Grindeanu as PM, the social democrats could kick off the procedures to suspend the head of state.
Grindeanu contributed to PSD's political manifesto on the communication & IT, development and large infrastructure components, according to Dragnea.
Ovidiu Posirca