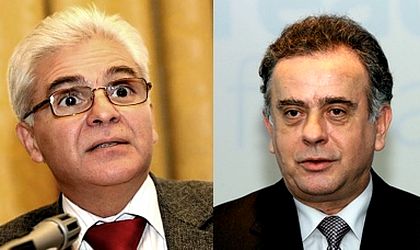 Two former directors of Microsoft Romania have been placed under judicial control, alongside businessman Claudiu Florica, who represented, Fujitsu Siemens Computers, in a case involving the leasing of software licenses by the state. The anti-graft prosecutors have computed a loss of EUR 67 million to the state budget from this deal, which was initially inked in 2004.
Silivu Hotaran and Ovidiu Artopolescu, both former managers of Microsoft Romania, are being prosecuted in this file called "Microsoft 2".
According to his LinkedIn profile, Artopolescu is currently member of the supervisory board at Transelectrica, the state-owned grid operator.
"All my life I lived and promoted values related to ethics and morality. I have never given or taken bribes, I don't have accounts," said Hotaran, after leaving the HQ of the National Anticorruption Directorate on Monday. Hotaran has been managing director of an HR consultancy in the past eight years, according to his LinkedIn profile. He was general manager of Microsoft Romania for more than 12 years, between 1996 and 2008.
The two former executives of the IT company and Claudiu Florica are accused of complicity to abuse in office.
Microsoft 2 is separated from the file in which the judges handed down the first jail sentences. The former mayor Piatra Neamt, Gheorghe Stefan, was sentenced to six years in jail, the former minister of Communications, Gabriel Sandu, got three years in jail. In the same time, the controversial businessmen Dorin Cocos and Nicolae Dumitru got two years and four months in jail, each.
According to prosecutors, Cocos got a bribe of EUR 9 million from businessmen Claudiu Florica and Dinu Pescariu so that his wife at that time, Elena Udrea, who was minister of Development, would help seal the deal regarding the software licenses between Florica's firms and the Ministry of Communication.
Several former government officials are being investigated in the "Microsoft 2" file.
"As a result, the total loss generated to the state budget because of the framework contract for IT licenses leasing that was carried out starting 15.04.2004 and the additional files closed between November 2004 and 2008 amounts to USD 66.9 million," said the DNA in a statement.
Former minister Sandu said that the black money from the Microsoft affair was also used to finance political campaigns in Romania.
This file was dubbed by the media as one of the biggest corruption investigations in Romania.
Ovidiu Posirca