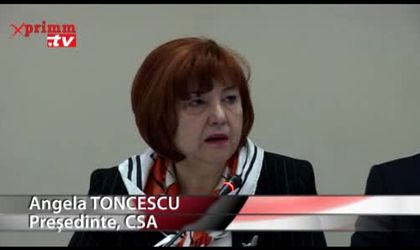 Angela Toncescu, the former head of the Insurance Supervision Committee (CSA) between 2006 and 2011, was detained by anti-graft prosecutors for 24 hours on Monday evening, in a case involving the Romanian bankrupt insurer Carpatica Asig.
Toncescu is accused of three counts of buying of influence. Prosecutors said that she broke the law while she was the head of the board of administration at Carpatica Asig.
Prosecutors said that starting March 2015, Toncescu relied on intermediaries to influence the decisions of the Financial Supervision Authority (ASF), which included the former CSA, so that Carpatica Asig and herself could get a favorable treatment from the insurance watchdog.
"This was done so she could get appointed as president of the administration board of Carpatica Asig and for ASF not to adopt certain unfavorable decisions in the case of Capatica Asig," said the DNA in a statement.
Prosecutors said that Toncescu was helped by two representatives of insurance firms that are prosecuted in the same case, and also by a police commissioner in the migration service that had access to classified information.
The two representatives of insurance companies Tatu Ion-Sorin and Hosu Dan influenced the votes in a board meeting of the ASF in August 2015 so that Toncescu could be named head of the administration board of Carpatica Asig.
In addition, the insurer remained in a financial recovery procedure, although it was clear from July 2015 that the company was facing an insolvency risk and needed EUR 100 million for recapitalization. One year later, the ASF was asking for the initiation of bankruptcy procedures at Carpatica Asig.
Carpatica Asig ended up paying up to EUR 480,000 to people that made favors for it, helping the company founded by Romanian businessman Ilie Carabulea to stay in business.
Prosecutors will ask a judge to accept the preventive arrest of Toncescu, Tatu and Hosu.
Ovidiu Posirca