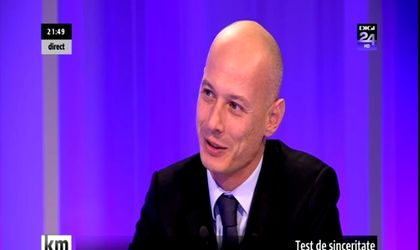 The former deputy governor of the National Bank of Romania (BNR), Bogdan Olteanu, was placed in preventive arrest for 16 days on Friday following a decision of the High Court.
Initially, Olteanu had been detained for 24 hours by anti-graft prosecutors and was later placed in house arrest. In the meantime, he resigned from his position at the central bank.
According to prosecutors at the National Anticorruption Directorate (DNA), Olteanu got a bribe of EUR 1 million and support for his political campaign in 2008 from controversial businessman Sorin Ovidiu Vintu. At that time, Olteanu was the head of the Chamber of Deputies.
Vintu gave Olteanu the money in order to secure the appointment of Liviu Mihaiu as governor of the Danube Delta. The DNA said that due to Olteanu's involvement,  Mihaiu got the job.
The EUR 1 million was transferred from an account in Cyprus to an account in Bulgaria of a company that was registered in the US. Olteanu got the bribe in cash at the HQ of the liberal party PNL.
In addition, Olteanu got political consultancy services worth EUR 10,000 for his campaign in 2008 without paying a dime. The services were provided on Vintu's order, who at that time was the head of a media conglomerate called Relitatea-Catavencu that included TV stations, online and print publications.
Mihaiu said he had heard rumours about the transactions that were made for his appointment, but only after he left the governor's job. Mihaiu is one of the founders of the Guerilla Radio station. He had a radio show that was cancelled following the eruption of this corruption scandal.
Vintu has recently been sentenced to six years and two months in jail for dilapidation and money laundering involving Petromservice company.
The businessman wrote on his Facebook that he admitted all the accusations made by prosecutors in this new case, involving the former BNR deputy governor.
Ovidiu Posirca