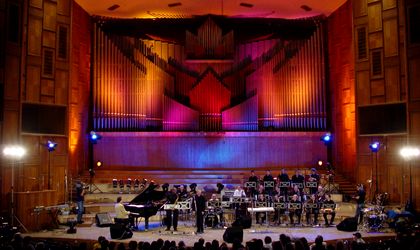 On Wednesday, January 22, you have the chance to unite or re-unite with Luiza Zan, one of the most exotic stars of Romanian music. The singer, along with Big Band Radio, will perform at Sala Radio, in a special concert conducted by Ionel Tudor, as part of the "Jazz pe Romaneste" series of events.
Your host for the evening will be Florian Lungu, himself a walking emblem of Romanian jazz. Led by his personal motto – "Jazz longa, vita brevis" – Florian Lungu promises the audience will partake in a "brief history of Romanian Jazz".
The program will include some of the most famous jazz pieces, ranging from classical to modern jazz and featuring compositions by Duke Ellington, Count Basie and Ted Joans.
Also, two of the members of BIG BAND Radio will interpret solo works: Cristian Solean (sax) and Sebastian Burneci (trumpet).
Tickes are available online on www.bilete.ro, in Romanian Post Offices. Inmedio stores that carry the "bilete.ro" logo,  Germanos stores and at the Sala Radio Ticket Office.