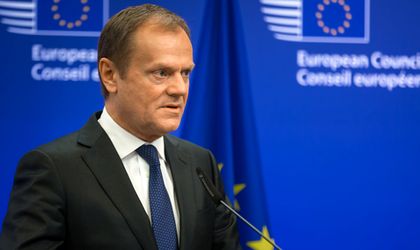 European Council President Donald Tusk criticised US president Donald Trump for withdrawing from the Iran deal and imposing steel and aluminium tariffs on the EU, citing the "capricious assertiveness of the US administration", Politico reports.
Tusk, a former PM of Poland, said that the EU will remain committed to the Iran deal as long as Tehran fulfils its obligations, and that the Union will develop ways to shield European companies that continue to do business with Iran from possible sanctions imposed by the US.
"Looking at the latest decisions of Trump, someone could even think: With friends like that, who needs enemies?" said Tusk to reporters. "I want the European Commission to be given a green light, so it is ready to act when European interests are affected," he added.
EC president Jean-Claude Juncker also expressed his commitment to the Iran deal, saying that its dissolution would "seriously threaten peace and security" in the region and that the EU needs to come up with a common and consensual approach to the issue.
The US has broken with the EU on other issues besides the Iran deal – Trump has also pulled out of the Paris climate agreement, moved the US embassy in Israel to Jerusalem and imposed tariffs on steel and aluminium on trading partners.
Tusk demanded a permanent exemption from the threatened tariffs for the EU, and said any claim by the US that such tariffs are justified for national security would be "absurd".
"We need to bring reality back into this discussion," Tusk said, adding that the EU should be "grateful to president Trump, because thanks to him we have got rid of all illusions. He has made us realise that if you need a helping hand, you will find one at the end of your arm."
Tusk also called for the EU to unite "economically, politically and militarily, like never before."
"I have no doubt that in the new global game," Tusk said, "Europe will either be one of the major players or will be a pawn."
Photo: dreamstime.com