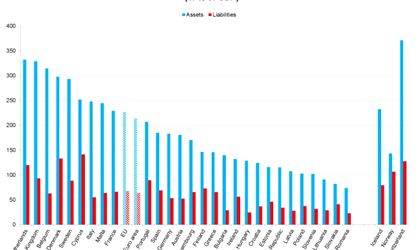 Romanian households are on the last place in European Union for financial assets, as a percentage of gross domestic product (GDP), but are significantly less indebted than other European households, according to Eurostat data published thursday.
The financial assets mainly consisted of insurance, pensions and standardised guarantees (38.8% of EU household financial assets), currency and deposits (30.4%), equity and investment fund shares (25.2%), Eurostat data shows.
Financial assets of households in Romania represented 73.4 percent of GDP in 2016, comparing to EU average of 227.1 percent of GDP.  Slovakians and Lithuanians are among other Europeans at the bottom of the list, with 82.3 percent  and 91.2 percent of GDP.
"Across the EU Member States, total financial assets of households were about three times larger than GDP in the Netherlands (332.5% of GDP), the United Kingdom (329.3%) and Belgium (314.9%)", Eurostat said.
Romanians are also the less indebted Europeans, with total financial liabilities relative to GDP at 22.9 percent, comparing with 67,8 percent in EU.
Loans are making up more than 90 percent of the households' total financial liabilities in EU.