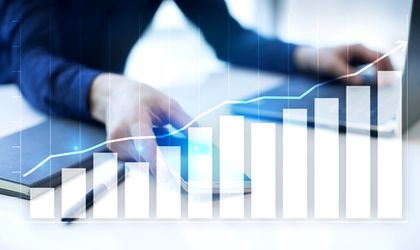 The number of high-growth enterprises in the EU has increased by 14 percent in 2016 compared to 2015, reaching 180,000. The states with the strongest growth rates were Cyprus (104 percent) and Romania (34 percent), according to data published by Eurostat.
A company is considered "high-growth" if the average growth rate of the number of employees is higher than 10 percent on a three-year period, and only companies with at least 10 employees at the beginning of the period are taken into account.
Despite the rapid growth in Cyprus, the actual number of companies that are rapidly growing is low – 48 companies in 2015 and 98 in 2016.
In Romania, the number of such companies has increased from 1,170 in 2015 to 1,568 companies in 2016. Most of the high-growth companies in Romania (406) were in the wholesale, retail, motor vehicle repairs sectors, followed by companies in the manufacturing sector (365).
At the EU level, 23 member states have had an increase in the number of high-growth enterprises. On the other hand, four member states have had a decrease – Latvia, Estonia, Malta and Finland.
In raw numbers, the largest number of high-growth enterprises were in Germany (40,000), followed by the UK (26,000), Spain and France (17,000 each) and Italy (15,000).
The number of high-growth firms has gone up in all sectors of the economy, but the biggest growth was seen in sectors like food and accommodation services, information and communications and transport and warehousing.