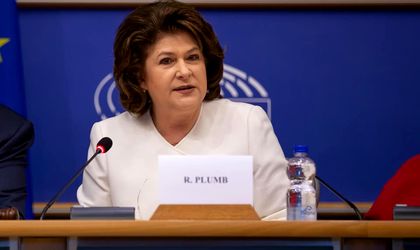 Romania's proposal for the Transport Commissioner role, Rovana Plumb, was rejected by the Legal Affairs Committee (JURI) in the European Parliament by a large majority, with 15 out of the 23 MEPs in the committee having voted against her appointment.  
Rovana Plumb, elected as a PSD MEP in May, was proposed for a commissioner role by the Romanian government and later nominated by Ursula von der Leyen for the Transport portfolio.
PNL MEP Siegfried Muresan said that as a result of the vote, the upcoming Transport Committee hearings for Rovana Plumb will be cancelled and the EP president will inform Commission president-elect Ursula von der Leyen that Plumb won't be able to become a commissioner.
"Without the approval of the Legal Affairs Committee, the hearings in the Transport Committee cannot take place," Muresan said for Digi24.
On Thursday, Plumb took part in an "extraordinary hearing" in the Legal Affairs Committee of the European Parliament in order to provide clarifications on her financial interest declaration. According to Politico.eu, a French MEP in the committee, Marie Toussaint, said that there was "a significant difference" between the financial declaration Plumb had submitted in Romania and the one sent to the EP and that they suspected a possible conflict of interest in her case, as two loans worth almost EUR 1 million were missing from the document sent to the EP.
The Romanian anti-corruption agency (DNA) also tried to investigate Plumb in 2017, in a case where she was accused of involvement in an illegal real estate deal involving the Belina island on the Danube River – but the Romanian Parliament rejected the DNA's indictment request.
Hungary's commissioner proposal, László Trócsányi, was also rejected by the JURI committee due to a conflict of interest.