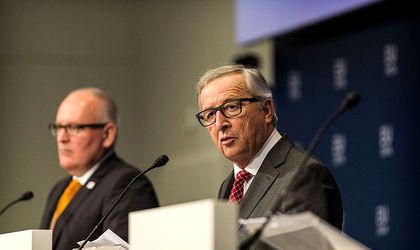 In a joint statement, the president of the European Commission, Jean-Claude Juncker, and the first vice-president of the EC Frans Timmermans, say they are following "with concern" the latest developments in Romania.
"The independence of Romania's judicial system and its capacity to fight corruption effectively are essential cornerstones of a strong Romania in the European Union.
The irreversibility of the progress achieved so far under the Cooperation and Verification Mechanism is an essential condition to phase out the Mechanism," said the officials.
The EC points out that in the most recent VCM report published last November, the Commission highlighted that the Government and the Parliament should "ensure full transparency and take proper account of consultations in the legislative process on the justice laws." The EU body added that Romania's authorities should seek the opinion of the Venice Commission in order to ensure the sustainability of reforms.
The two officials went on to say that the final decisions on the justice laws haven't taken into account the "legitimate interests of judicial and other stakeholders."
"The Commission calls on the Romanian Parliament to rethink the course of action proposed, to open up the debate in line with the Commission's recommendations and to build a broad consensus on the way forward. The Commission reiterates its readiness to cooperate with and support the Romanian authorities in this process.
The Commission again warns against backtracking and will look thoroughly at the final amendments to the justice law, the criminal codes and laws on conflict of interest and corruption to determine the impact on efforts to safeguard the independence of the judiciary and combat corruption," according to the statement.
On Saturday, tens of thousands of people protested against the changes to the justice laws across the country and abroad.
The amendments were approved by the Parliament in late December 2018 and the draft bills have reached the table of president Klaus Iohannis to be signed into law. A decision of the president Iohannis is expected.
The joint message of the EU leadership came on January 24, when Romania celebrates the 159th anniversary of the Small Union.
Meanwhile, the heads of the two chambers of Parliament said in a letter submitted to the EC leadership that they are concerned about the "incorrect manner" in which EU officials were informed "regarding the transparency of the debate surrounding the justice laws in Romania".
The head of the Chamber of Deputies, Liviu Dragnea, and Senate president Calin Popescu Tariceanu claimed that there was an extensive debate on the amendments to the justice laws. They added that the Constitutional Court will make a ruling on the amendments.