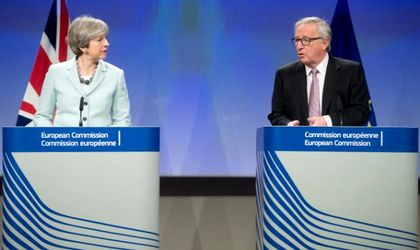 The European Commission, the executive arm of the European Union, says that enough progress has been made in the first round of negotiations for the Article 50 between the UK and the EU, meaning that the Brexit talks are set to enter into a new phase.
The EC said in a statement it recommended the European Council to give the green light for the second phase of negotiations. The Council is expected to make a decision on December 15.
"The Commission is satisfied that sufficient progress has been achieved in each of the three priority areas of citizens' rights, the dialogue on Ireland / Northern Ireland, and the financial settlement, as set out in the European Council Guidelines of 29 April 2017. The Commission's negotiator has ensured that the life choices made by EU citizens living in the United Kingdom will be protected. The rights of EU citizens living in the United Kingdom and United Kingdom citizens in the EU27 will remain the same after the United Kingdom has left the EU. The Commission has also made sure that any administrative procedures will be cheap and simple for EU citizens in the United Kingdom," said the EC.
Furthermore, the UK has made "significant commitments to avoid a hard border" between Ireland and Northern Ireland.
"If the 27 Member States agree with our assessment, the European Commission and our Chief Negotiator Michel Barnier stand ready to begin work on the second phase of the negotiations immediately. I will continue to keep the European Parliament very closely involved throughout the process, as the European Parliament will have to ratify the final Withdrawal Agreement," said Jean-Claude Juncker, head of the EC.
According to the Commission, if the European Council (Article 50) considers that sufficient progress has been made, the negotiators of the European Commission and of the United Kingdom Government will begin drafting a Withdrawal Agreement based on Article 50 of the Treaty on European Union on the basis of the Joint Report and the outcome of the negotiations on other withdrawal issues.
The actual withdrawal of the UK from the EU should happen by March 29 2019.