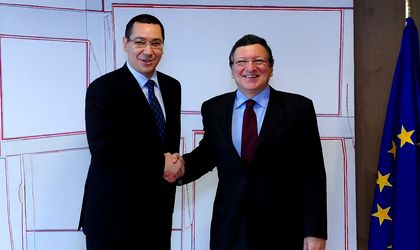 European Commission president, Jose Manuel Barroso, last week acknowledged Romania's efforts to keep the budget deficit below 3 percent last year but warned that more needs to be done on the independence of the judiciary and the appointment of key posts, during discussion with Romanian PM Victor Ponta.
The absorption of EU funds, which economists say is crucial to ensure growth, was another topic raised during the official meeting.
"We had a good frank discussion indeed on the use of structural funds. We have talked a number of times about the need to improve the absorption capacity of these funds. I welcome the commitments of Prime Minister Ponta on this issue with particular focus needed on the preparation of the next programming period," said Barroso.
Romania's absorption of EU funds stood at 21.8 percent at the end of 2012, according to the European Affairs Ministry. The EU and CEE averages were 45 percent and 43 percent.
In spite of the poor absorption, Romania aims to obtain higher cohesion and agricultural payments in the next EU budget that runs through to 2020. Negotiations on the new budget are still underway in Brussels.
"I am sure the final agreement will take into account Romania's interest and will respect the EU objective of more cohesion between member states and fewer differences between older and newer member states," said Ponta.
The president said the political conditions allow Romania to make a real push on the reform process. He added that politicians should "set an example by stepping aside where integrity ruling or corruption charges exist".
The Cooperation and Verification Report published by the Commission earlier this year on Romania's reforms of the judiciary and anti-corruption practices pointed out that two ministers in the Ponta cabinet had been charged with corruption. Neither has resigned yet.
Although Romania is technically ready to join the Schengen area, a final political decision is still required. PM Ponta plans to send a letter co-signed by Romania's top officials, including the president, to all EU leaders. He will seek acceptance to Schengen, along with Bulgaria, in March.
"As you know, I support, and the Commission supports, Romania's accession to Schengen," stated the Commissioner.
PM Ponta has also met with the European Council president, Herman van Rompuy and the Regional Policy Commissioner, Johannes Hahn.
Ovidiu Posirca