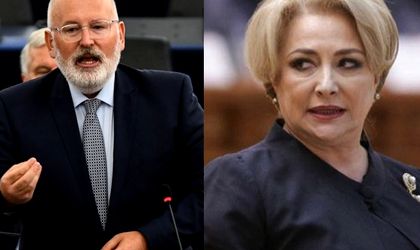 The European Commission has sent a letter containing 18 questions to the Romanian Prime Minister Viorica Dancila. The EC expects an answer by November 1st. The move comes after the Romanian politician's October 3 speech in front of the European Parliament in which she gave details on the justice reform and the violent incidents that took place in Bucharest on August 10 during the anti-government protests.
The letter was sent by European Commission Vice President Frans Timmermans on October 4, the day after the Romanian PM's EP speech.
The letter includes questions on the laws of justice as well as the Code of Criminal Procedure and the Criminal Code. "We analyze the amendments regarding their compliance with the EU legislation and sent detailed and precise questions to the Romanian authorities on these issues, " the European Commission spokesperson told Mediafax.
In his remarks in the European Parliament Plenary debate on the rule of law in Romania on October 3, Timmermans said: "We are all aware that the initiatives taken by the Romanian authorities since 2017 as concerns the reform of the justice laws, the criminal procedure and criminal codes, and the processes regarding the judiciary, have led to concerns from a wide range of stakeholders both inside and outside Romania and the EU."
"Many Romanians are worried that the proposed changes to these laws may undermine the long-standing efforts in the fight against corruption and the independence of the judiciary. These are concerns the Commission very much shares," he added.
"The independence of Romania's judicial system and its capacity to fight corruption effectively are essential cornerstones of a strong Romania in the European Union. We have seen substantial progress in the past but things are now moving backwards in a way that would be damaging for the place that Romania has built as an EU Member State in recent years," the EC VP told the Parliament.
"The Commission has repeatedly called on the Romanian authorities to rethink their course of action and to build a broad consensus on the way forward – and I want to reiterate that call today. I would stress once again that the Commission is always ready to cooperate with and support the Romanian authorities in this process. I trust this dialogue will continue, and we will be meticulous and precise in all the elements in the proposals that we would like to discuss with the Romanian authorities," he added.
"The latest developments are a source of growing concern for the Commission, If adopted without changes, the combined effect of the amended Justice laws and the Criminal codes would affect the capacity of the justice system, including the prosecution service, to effectively fight against corruption and other crimes" he said, adding that "this means backtracking from the situation that led the Commission to make a positive assessment in our report of January 2017."
The next CVM report, assessing Romania's progress in the field of justice, will be issued next month.