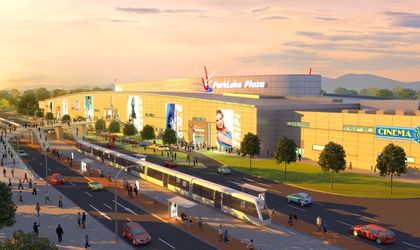 Irish investment group Caelum Development has announced that it will invest about EUR 250 million into opening the ParkLake Plaza shopping mall in eastern Bucharest. The project is estimated to be completed in Q4 2013 and will be located in the eastern part of Bucharest, on Liviu Revreanu Boulevard, near IOR/Titan Park.
ParkLake Plaza will have a lettable area of approximately 67,000 square meters. The shopping center's main anchor will be a Cora hypermarket with a total area of 15,500 sqm. The project will include over 200 stores and an area of approximately 3,000 sqm for dining, restaurants, cafes and fast-food units and a Cinema City multiplex. In addition to this, the shopping mall will also feature 10 tennis and football courts and a children's playground that will be connected with the Titan Park.
"So far, we have signed contracts and pre-letting contracts for approximately 50 percent of the available space and we are in advanced process of negotiations for another 20 percent of the total letting surface", said Cristina Dumitrache, associate and head of retail shopping centers with Cushman & Wakefield, the project's exclusive letting agent.
The ParkLake Plaza project was first announced in 2008 when Caelum Development signed a partnership with Portuguese developer, owner and shopping center manager Sonae Sierra. At that time the two companies said the project will cover 110,000 sqm and it will be opened in the first half of 2011 following a  EUR 600 million investment.  The project was later postponed and Sonae Sierra stepped back from the partnership.
Caelum Development is based in Warsaw and was founded in 2002 by private investors. It operates in Central and Eastern Europe, mainly in Poland and Romania.
Simona Bazavan