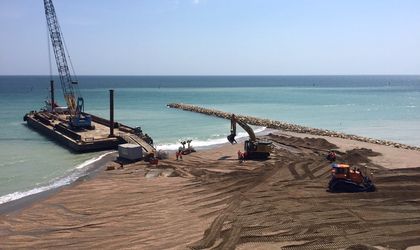 A project for the rehabilitation of the southern part of the Romanian Black Sea coast financed through EU funds has been completed, Romair Consulting announces.
Worth a total of EUR 170.45 million, the project received a grant of EUR 145.68 million through the Environment Sectoral Operational Programme, of the Cohesion Fund.
"We are glad the Romair Consulting team has contributed to a first and important step in a series of actions meant to halt erosion on the shores of the Romanian seaside of the Black Sea. By implementing one of the most ambitious and beautiful projects in Romania, Constanta now has a larger surface by at least 42 ha and due to these works five beach areas were extended by over 100 m, accessible to all tourists starting with 2016," says George Boeru, president of Romair Consulting.
The project's main goal was to implement protection and rehabilitation measures against accelerated erosion risks in beach areas such as Mamaia Sud, Tomis Nord, Tomis Centru, Tomis Sud and Eforie Nord, on a length of 7.3 km.
The sanding activity of all five sectors of the beach was run continuously from August to October 2015, with the project being completed entirely in the month of December 2015. The project generated 250 temporary jobs and 10 permanent ones.
The project is part of a wider initiative in the long term, in the context of the Recommendation on integrated coastal zone management and the strategy of the EU Framework Directive for the marine environment.
Romair Consulting is a Romanian company specializing in implementing EU funded projects. It is currently executing 147 major projects financed by the EU, with a total value of EUR 1.8 billion. The company covers five major funding axes: the Environment Sectoral Operational Programme, the Regional Operational Programme, the Transport Sectoral Operational Programme, the Management Authority, the Human Resources Development Operational Programme and the National Plan for Agriculture and Rural Development.
Natalia Martian