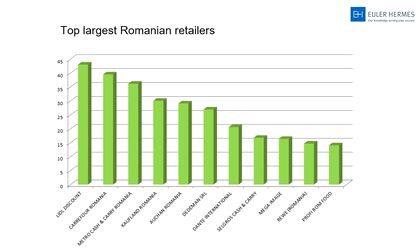 Euler Hermes, subsidiary of Allianz, estimates that the Romanian retail market reached EUR 40 billion in 2017, with four big players owning a share of 60 percent: Kaufland, Carrefour, Metro Cash&Carry and Auchan.
According to a study made by Euler Hermes regarding the retail market in Romania, it increased by 12 percent in 2016. It was due to the increase in the gross minimum salary (currently RON 1,450), the VAT reduction from 24 percent to 19 percent and the higher labor force occupancy by 0.16 percent compared with 2015.  
The consumption growth increased the dynamic of commercial market. So that in 2016 were delivered 230,000 sqm of new commercial spaces, an year-on-year growth by 40 percent. Also the trade sector registered a record number of 240 new stores, out of which the most active players were Profi, Mega Image, Lidl and Kaufland.
Romania is thus after Turkey, Russia, France and Italy, in top countries with commercial spaces increase, but under the European average.  For 2017 were announced over 43,000 smq commercial spaces in Romania.
The challenge of this year was the market growth in small and medium cities. The statistics show that retail among bid store chain have a share of 62.4 percent in Romania compared with 90 percent in developed countries. Besides improving the stores' aspects, retailers focus on the online stores development and offering alternative payment methods.  In Romania, 85 percent of the products sold in the retail chain have a mixed origin and 15 percent are local products.
Recently Allianz acquired 11.34 percent of Euler Hermes' stakes, so that Allianz's stake reached 74.34 percent.  Now Euler Hermes Romania owns 12 percent of its stakes in retail sector.