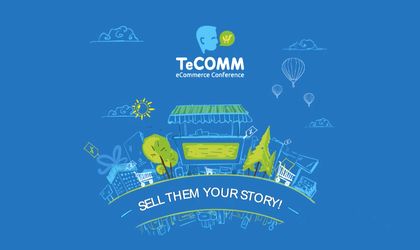 Speaking at TeCOMM, a two-day event dedicated to the e-commerce industry, Eugen Potlog, UX Lead & Product Manager at Conversion Marketing, gave participants an insight into what e-shop owners can do to increase conversion rates, shared usability best practices and warned against common pitfalls.
Ensuring that the client has a pleasant experience s vital for success in e-commerce, Potlog said. According to him, making your website as user friendly as possible is crucial and the road to achieving this has three compulsory stops. First, e-shop owners must identify the issues their site is having, to find the proper solutions and last, to implement the solution and assess whether it has yielded the expected results.
At the same time, each case is different, and there are no one-size-fits-all solutions. For instance, sometimes it is a good thing if someone spends a considerable time browsing a website without making a purchase, while in other instances users will spend a little time on the website and make a purchase straight away.
One key marker of the concept of usability is that the user should always know at what stage of the purchase he or she is. For instance, if the server is busy, the user should know what is happening in real time and should be notified that the system is working.
Additionally, e-shop owners should get inspired by offline customer behavior and replicate it. "Always think how would a customer like the merchandise to be displayed in a shoe shop at the mall? Answer that question and replicate that into your online shop," he argued.
Moreover, consistency and clear standards should always be followed, as people are used to things working a certain way. Error prevention is also important. "Think of all the situations that could make your clients get stuck". You must anticipate each situation, for instance if someone inserts their address into the field reserved for e-mail addresses, the system should immediately indicate what the exact error is that prevents the purchase from being completed.