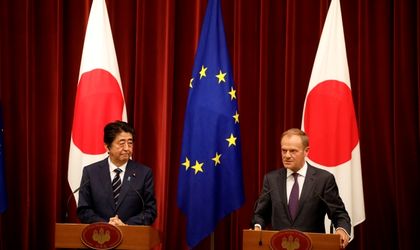 The European Union and Japan have signed in Tokyo a landmark trade deal European Council President Donald Tusk branded the 'largest bilateral trade deal ever.' The deal is also seen as a clear message against protectionism, and comes on the background of an ongoing trade war between the EU and the US, spurred by the protectionist measures imposed by Trump.
The landmark deal will eliminate nearly all tariffs on products traded between Japan and the bloc. The deal eliminates about 99 percent of the tariffs on Japanese goods sold to the EU. The deal also provides for the lifting of about 94 percent of the tariffs on European exports to Japan, with the figure to raise to 99 percent in the future.  The difference reflects exceptions on products Japan considers strategic, such as rice, which enjoys strong protection from imports in Japan.
"The E.U. and Japan showed an undeterred determination to lead the world as flag-bearers for free trade," Japan's Prime Minister Shinzo Abe said at a joint news conference with European Council President Donald Tusk and European Commission President Jean-Claude Juncker.
According to Tusk, the partnership is also being strengthened in various other areas, such as defense, climate change and human exchange, and is "sending a clear message" against protectionism.