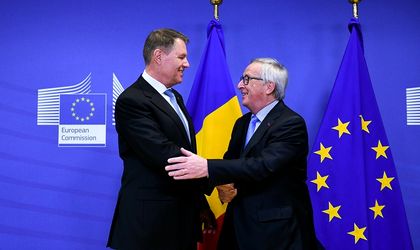 The official ceremony to launch Romania's Presidency of the Council of the European Union will take place on Thursday, January 10, at the Romanian Athenaeum. The presidents of the European Commission, the European Council, the European Parliament and the Commissioners' College will be in Bucharest for a two-day trip to mark the start of Romania's EU Presidency.
Also on January 10, the Commissioners' College (all the EU commissioners) and Commission president Juncker will meet with the ministers in Romania's government at the Victoria Palace, in order to discuss the issues on the agenda of the Romanian Presidency – Romania has taken over more than 250 dossiers from the Austrian Presidency.
European Commission president Jean-Claude Juncker will hold joint press conferences with both president Klaus Iohannis and prime minister Viorica Dancila, on January 11.
Romania's EU Council Presidency will last 180 days, during which hundreds of meetings and events will take place in Bucharest and other cities in the country. The period will also be marked by events like Brexit, European Parliament elections and the delivery of the EU's 2021-2027 budget.