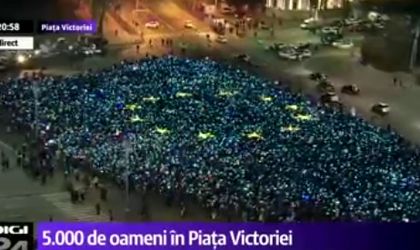 In the 27th consecutive night of street protests in Bucharest, some 5,000 people created a "human" flag of the European Union, at 9.00 PM sharp, in Victoriei Square. 
The organizers of the protest said that the EU was one of the allies of the people that have been calling for the continuation of Romania's anti-corruption efforts.
Two weeks ago, roughly 50,000 people recreated the Romanian flag in a protest held in front of the government building. On both occasions, the protesters recreated the flags using their smartphone lights.
The protests have continued in Romania despite the resignation of two ministers of left-wing government led by Sorin Grindeanu. In addition, three ministers have been replaced as part of a government reshuffle earlier this week.
Furthermore, the planned changes to the Criminal Code, which have triggered the protests, have been cancelled, following a vote in Parliament.
The people that rallied on Sunday night called for the resignation of the government, which is backed by the political coalition that comprises the Social Democratic Party (PSD) and the Alliance of Liberals and Democrats (ALDE).
The current government has survived a motion of no confidence in Parliament and the head of the PSD, Liviu Dragnea, announced earlier this week that 1,4 million people had signed a petition to keep Grindeanu's team in power.
Meanwhile, the PSD staged two of its own protests. Last week, several thousand people rallied in Pitesti city to show their support for the government and the ruling coalition, similar to a rally held this Saturday in Targoviste city. The cities are located in counties considered to be strongholds of the left-wing PSD party.
At this moment, there are no signs that PM Grindeanu intends to step down. Going forward, president Klaus Iohannis is expected to announce the date for the organization of a referendum on Romania's anti-corruption campaign, in a move that has been backed by MPs.
Ovidiu Posirca
Photo source: Screen caption Digi24