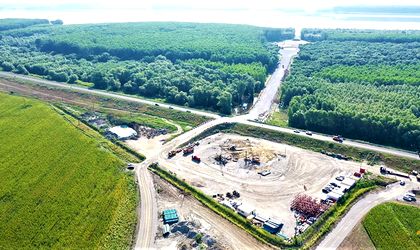 The European Commission has approved a EUR 363 million-financing for the 3rd bridge between Wallachia and Dobruja to be built at Braila.
The construction of the new bridge has already started last year but experts point out that the government did not take all the necessary steps in order to allow the construction – like expropriation and power grid relocation.
The bridge, with a total length of almost 2 kilometers, will be built by a consortium led by the Italian group Astaldi.
The project will be financed through the European Regional Development Fund (ERDF).
"This EU-funded project will clearly improve the quality of life in the region, with shorter and safer road trips. By facilitating links with Moldova and Ukraine, this cohesion project will also help to strengthen the EU's relations with its neighbors," EU Commissioner Johannes Hahn said in a press release.
Romania has currently two bridges (Fetesti-Cernavoda and Giurgeni-Vadu Oii) linking the southern part of the country, or Wallachia, to Dobrudja, a small province annexed in 1878 that allows the country to have a sea access.
But the northern part of Dobrudja have no easy access to the rest of the country, especially to the two neighboring major ports on the Danube – Braila and Galati.
Photo credit: Asociatia Pro Infrastructura