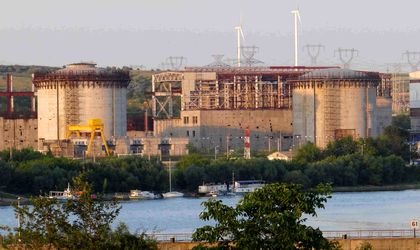 The new leadership of the Ministry of Economy is pushing for the acceleration of negotiations with Chinese investors for the building of reactors 3 and 4 of the Cernavoda nuclear power plant. On Thursday, representatives of the Ministry of Economy met with General Nuclear Power Corporation (CGN) representatives for talks on the project's schedule that will allow for negotiations to be speed up.
"Negotiations have been going on for two long and it is time to get closer to a decision. In the upcoming period, the new team of the ministry will give priority to negotiations to obtain an agreement an agreement to develop the project. We will initiate within the shortest time a memorandum within the Government to obtain the negotiation mandate in relation with the CGN," Robert Tudorache, State Secretary with the Ministry of Energy said.
Representatives of the Chinese company, headed by the project manager for Romania, said the Chinese side has a mandate to conduct more flexible negotiations on several points, so that discussions can be accelerated.
Building of reactors 3 and 4 at the Cernavoda nuclear power plant, managed by Nuclearelectrica, is a priority investment project for Romania, included in the governing platform of the executive.
The last deadline for negotiation expired on 20 December 2016. On 31 January 2017, the negotiations committee approved the proposal to continue negotiations on the Investment Documents, by 30 January 2017, but provided that the Inter-ministerial committee, the Romanian Government and the SNN General Meeting on the continuation of negotiations.
Georgeta Gheorghe