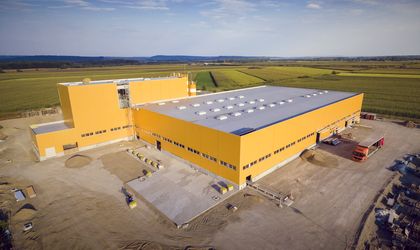 Elis Pavaje has kicked off  production at its third factory from Neamt County, after an investment of EUR 10 million. The company wants to respond to the growing the high demand for concrete raw materials and to optimize the logistic costs in Moldova area.
"We grew in 25 years from a production of 6 sqm/day to almost 10,000 sqm/day and in the last years the demand exceeded constantly our production capacities. We grew our sales year by year through the optimization of the production processes and through the investments in the existent production lines, but there is limit that we can't exceed, without having an additional capcity. Therefore we needed to open a new production unit," said Emil Gota, general director Elis Pavaje.
The new plant is fitted with a manufacturing equipment that has a production capacity of 5,000 sqm/day. The production warehouse, office building and logistic spaces have a total area of 50,000 sqm. The company created 40 jobs in this plant.
"Although we have a slight delay of the initially announced term, we will open the factory in a peak demand moment: the projects made from European funds began and we also register significant growth on residential projects sector," said Gota.
Elis Pavaje is part of the Elis firms group owned by Gota family in Petresti, Alba county.
The turnover of the group in 2016 was RON 182.4 million.