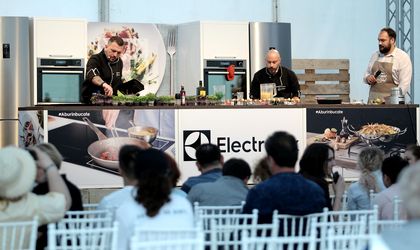 Electrolux and Golin rolled out a special campaign during the first edition of Bucharest Gourmet Festival, which included two celebrity chefs and six famous culinary bloggers.
The campaign included both a competition addressed to the culinary bloggers in Romania and a separate session dedicated to the events' participants.
"The whole team was body and soul involved in this 3 days culinary marathon, from identifying the most unusual ingredients until the development of unique activities for the festival's public. For the ones that didn't arrive at the festival we offered a full of savor live at Electrolux Gourmet Arena on the company's Facebook page that showed the atmosphere felt by the visitors of the cooking Electrolux sessions", added Anca Scarlat, senior manager at Golin.
The Electrolux ambassadors-chefs at the event were Paul Siserman and Liviu Lambrino, former contestants of MasterChef Romania. Moreover, during the three days, Electrolux and Golin organized for the festival's participants a series of competitions and thematic activities – tasting sessions, culinary live demonstrations on the main scene of the Electrolux Gourmet Arena.
Bucharest Gourmet Festival is an open-air celebration dedicated to the gastronomy that has reunited in the first edition this year 12,000 visitors.
The teams involved in the Bucharest Gourmet Festival campaign:
Electrolux: Carmen Georgescu, marketing & communication manager Electrolux Romania, and Mugur Marinescu, trainer Electrolux Romania.
Golin: Anca Scarlat (Senior Manager), Iuliana Stefan (Media Associate), Florentina Grosu (Media Associate), Raluca Duta (Chief of The Bridge™), Gabriela Bumb (Junior Digital Associate), Thedeea Gherlan (Digital Manager) and Oana Popescu (BTL Manager, Lowe Vibe)
Romanita Oprea