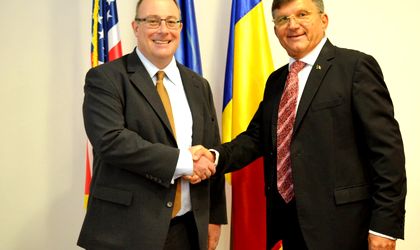 Electrocentrale Bucuresti (ELCEN), the energy producer from Bucharest, signed today a service and maintenance contract for a gas turbine with General Electric Global Services GmbH, the service division of General Electric (GE).
The deal will come into force starting September 9 and is available for a period of six years. Its value is EUR 5.65 million, an established price for the entire period of contract. General Electric participated in an online open tender, announced and developed by ELCEN, according to the legislation during May-August and was declared winner.
"The gas turbine plays an essential role in the station with combined cycle from the West functioning (…) as a result of its high efficiency level. We are glad that we'll collaborate with experts from this field, the original producers of the gas turbine, for ensuring the maintenance services, guaranteeing thus the certainty in offering a quality service in thermal energy supply for the Bucharest consumers," said the general director of ELCEN, Marcel-Octavian Nicolaescu, during the signing of the contract.
"ELCEN becomes one of the big energy companies in Romania that benefit from the specialized technical services of GE for ensuring the maximum availability of functioning in quality parameters, contributing to ELCEN's competitiveness in the energy sector, " said the general director of General Electric Power Services for Central Europe, Adolf Roesch.
The gas turbine from CTE Bucharest West functions since 2009 and it is produced by General Electric, the parent company of General Electric Global Services.
The investment for the station with combined cycle from CTE Bucharest West was EUR 160 million and entered into commercial exploitation in 2009.
Georgiana Bendre