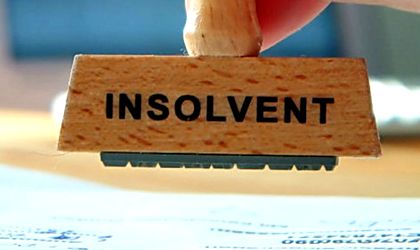 Energy station Bucharest (ELCEN), The Autonomuous Office of Thermic Energy Distributions Bucharest (RADET), Polisano SRL, Energy Complex Hunedoara and CET Govora were the biggest insolvencies initiated in 2016, according to the data of Coface Romania.
Overall, the number of big companies with a turnover of over EUR one million that became insolvent last year reached 333, a drop by 577 compared to a year ago.
According to Coface, the number of insolvencies fell overall in 2016 to the minimum of the last 10 years, respectively 8,053 companies that have just become insolvent, by 21 percent less than in 2015.
On the other hand "the incidence of insolvencies among companies that have more employees, the dynamic correlated probably with the increased growth of the minimum wage from the last years."
"The minimum wage increased by 12 times in the last eight years and increased more rapidly than the level of average productivity, the share in the average gross salaries at economy level increased from 27 percent in 2008 to 43 percent in 2016," said Iancu Guda, the director of services and chief economist at Coface Romania.
In these conditions, the number of jobs per insolvent companies in 2016 dropped by 14 percent, compared with 2015, slower than the insolvency decrease.
According to Coface, the main cause of insolvencies were the drop of revenues, together with the higher losses accumulation.
Georgiana Bendre