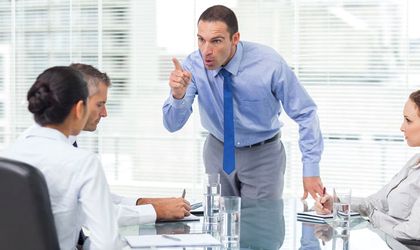 On Halloween, eJobs asked Romanian employees which are the most terrifying things at their jobs and 42 percent of them think that psychopath bosses are the reasons for looking for another job. Other 29 percent would do the same due to the colleagues stabbing in the back and 10 percent are frightened by the work until late in the night. There are however 7 percent that say that nothing would frighten them so much to look for another job.
If these are hypothetical reasons to change the jobs, the top of the most terrifying things that Romanian employees confront with daily at the office are the huge work load, reported by 21 percent of the respondents. Other challenges that they confront with are "clown bosses" (14 percent), "wizard  colleagues" (13 percent) or the "circus meetings" (12 percent). These are followed by the stress of arriving at a fixed hour in the morning, at the office, the fear of being fired, the work with a incompetent boss, the unpaid salary or the lack of communication within the organization.
The study also showed that 84 percent of the employees don't celebrate Halloween at the office, while the Christmas parties are part of the tradition of every year-end in the companies. The Halloween is at the beginning of the organizational culture of Romanian employers.
Out of those who celebrate Halloween, 41 percent go to a them party outside the company, 31 percent enjoy the specific cookies and carved pumpkins, 19 percent have a party or Halloween costumes contest and 15 percent come at the office in funny costumes.
Regarding the budget allocated for Halloween at the job, 76 percent of the employees don't spent anything for it, 14 percent spend less than RON 50 and 11 percent allocate over RON 50.
The study was developed in October on a sample of 1,299 respondents, out of which 63 percent were females and 38 percent were males.