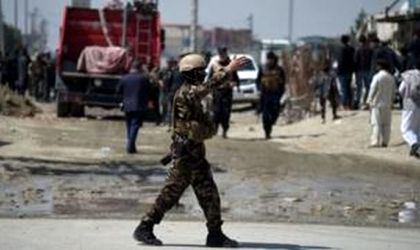 Eight Romanian soldiers were injured by a Vehicle-Borne Improvised Explosive Device during a mission in Afghanistan, according to the Ministry of Defense (MApN).
The soldiers were transported to a hospital in Kandahar and they are out of danger, said the source.
"The injuries sustained in the attack don't put their lives in danger," said the minister of defense, Mihai Fifor.
"Eight military with the 30th Battalion "Carpathian Vultures" Force Protection with Campulung Muscel were wounded on Monday 30 April in Afghanistan at around 9:00 am, Romanian local time, during a mission in the responsibility area, as they were target of a trap-vehicle (VBIED – Vehicle-Borne Improvised Explosive Device). The military were granted the first aid on the spot, after which they were sent to the military hospital in Kandahar, where they are in stable condition. Their names are to be made public after their families will be informed," the MApN says in the release.
In 2018, Romania's Army participates in the Resolute Support NATO mission in Afghanistan with 625 military, other 300 being deployed in operations under NATO, EU, UN and OSCE command/mandate in other regions.
During the external missions, 29 Romanian military lost their lives and over 185 were injured, the release adds.
"The security situation in the OTs (operation theatres, ed. n.) in Afghanistan is unstable, most of the incidents being recorded in the eastern and southern provinces of Afghanistan. The NATO forces that are ensuring the military bases' and the country's important spots' security remain permanent targets of some possible attacks of the insurgents. Romania continues to keep its commitments in the OTs in Afghanistan, its main effort staying focused on ensuring protection of the force in the Kandahar Military Base, concomitantly with the participating in the training, counseling and assistance of the Afghan security forces with the North and South regional commands," said the source.
President Klaus Iohannis wished a fast recovery for the injured soldiers, according to a press release.
"We are close to our soldiers that represent our country with professionalism and dedication in the most dangerous places, in order to maintain peace and international security," said Iohannis.