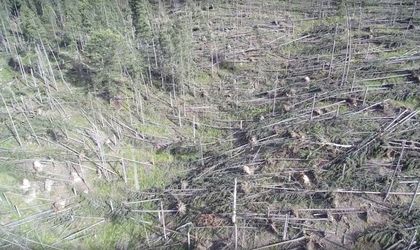 The United States Environmental Investigation Agency (EIA) said on Tuesday that Austria's Schweighofer, the largest wood industry player in Romania, has sold all of its forests in the country to avoid responsibility for deforestation.
"Recently, Schweighofer sold the last plots of forests they owned and now supplies from independent vendors, and this way he has been responsible for the legality and sustainability of forest exploitation," said David Gehl, EIA Coordinator of the Euroasia Program, an environmental NGO that has conducted an investigation into the Romanian wood industry for 18 months.
The Austrian company sold more than 14,200 hectares of forest owned in Romania to Sweden GreenGold Group.
Schweighofer began importing about 1.6 million cubic meters of wood per year from Romania's neighboring countries, and with a high-level of corruption, such as Ukraine, Belarus or Slovakia, according to EIA representatives.
"Since 2015, when Schweighofer become the subject of investigations by the police and specialized bodies, the group has halved the amount of wood from Romania to 1.2 million cubic meters per year. Instead, imports from neighboring countries, Ukraine and Belarus, countries with high levels of corruption have increased, and also from Slovakia, which is a rich biodiversity country with virgin and quasi-forest forests, "Gehl states.
According to American NGO, Schweighofer continued to supply with wood from Romanian national parks.
In the past 18 months, the wood suppliers of the company transported more than 35,000 cubic meters of wood from two national parks, according to the report released by the EIA.
The authors of the report urge the Government to continue the investigation of the Schweighofer case, improve the Forest Inspector platform to make more information available to the public, strengthen law enforcement in the field of illegal cutting and corruption, and stop commercial cuts in national parks.