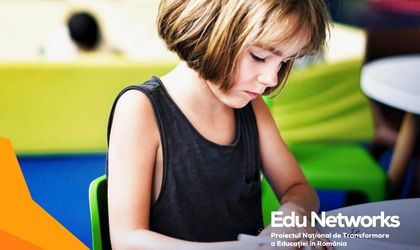 Edu Networks, the largest national education transformation project, was officially launched today by the Association for Values ​​in Education, along with 8 other education organizations, as well as the founding and strategic partners – Bitdefender and Lidl. The project will run for a period of four years and aims to reduce school dropout, absenteeism, functional illiteracy, as well as to increase the graduation for national tests and the baccalaureate exam.
The Edu Networks project will be implemented, for 4 consecutive years, in 500 kindergartens, schools and high schools, with poor or average results, from the rural and urban areas, in which they teach almost 260,000 students.
This year, 65,000 children from 114 kindergartens, schools and high schools from the Bucharest-Ilfov, Bacau, Bistrita-Nasaud, Buzau, Dambovita, Galati, Hunedoara, Olt and Valea Jiului regions are targeted. Each educational institution will benefit from a development plan and personalized resources, depending on their own needs and problems.
Since October, the 9 organizations, over 68 educational experts and over 50 business mentors, experienced in developing leadership skills, will work with teachers, parents, administration and the local community, to improve the quality of education and increase performance. school.
"Edu Networks is the largest collaborative project for privately supported education. We will help teachers, principals and parents transform the kindergartens, schools and high schools in their communities. Throughout we will form clusters of at least 10 kindergartens, schools and high schools, which will work and learn together how to improve the educational act and the school results. We want to show that education in Romania can be changed by involvement and we invite other companies to join us in the healthy construction of the next generations," says Andreea Nistor, Executive Director of the Association For Values ​​in Education.
Founding partner of Edu Networks is the company Bitdefender, which started in 2018 the investment in a first cluster, in Brad, in Hunedoara county.
"We have already supported the first cluster, in 2018, involving 12 schools in Hunedoara, 250 teachers and over 3,000 students. In addition to the courses held with the teachers, about their role and the transformation of thinking paradigms, we also organized workshops, where we discussed the educational gaps and how to reduce and even close them. We also had a summer school with the teachers and educators included in the project, where we addressed the importance of literacy in early education. We are pleased to continue to support this project, which is gaining more and more scope and adopts professionals and partners eager to reform the education in Romania better. We know very well that there are countless serious problems, including high school dropout – 1 out of 5 children leaves school early – functional illiteracy – 2 out of 5 children are functionally illiterate -, low graduation levels in national tests and high school exams, "says Florin Talpes, Founder & CEO Bitdefender.
LIDL company became this year a strategic partner of the project, investing EUR 620,000.
"Education is the engine of a functional society and it depends on the development of a better future for generations. The education system in Romania urgently needs a modernization of teaching methods, adaptation and alignment with the current needs of the labor market, sustainable solutions to increase the students' performances. Lidl has been supporting several key education organizations for over 2 years, and now we have chosen to invest in this national project, which we strongly believe in. Change is in our power and we need to be united in order to succeed," says Cristina Hanganu, Director of Communication and CSR Lidl Romania.
In the long term, the project aims to raise the education system in Romania in the top 10 Europe by 2035. Currently, our country is ranked 31st out of 34, according to a study by The Economist.
AVE is an organization founded in 2015 by entrepreneurs and business people. The association uses the expertise and resources of private companies to transform schools and the education system in Romania. In the last 2 years, the organization has worked with 600 school directors and has changed the quality of education for 48,000 students.