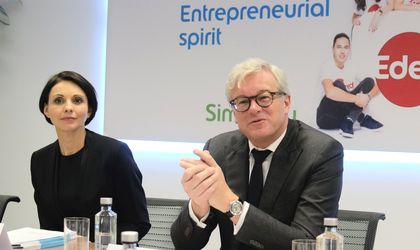 After 2.5 years since the launch of the first meal card in Romania, Edenred electronic meal vouchers are currently used by 500,00 employees. Dana Sintejudean, general manager of Edenred Romania & Moldova, says that the company will launch in Romania a travel and expense solution.
"We assess this business line and we analyze other possible business lines to launch in the short term. Moreover, we will open a subsidiary in Moldova, possibly in March, following the promulgation of the meal benefits law in October. We hope it will be a success even if the market is not so big," said Sintejudean.
According to the company, the average number of transactions with ticket restaurant card is 5 transactions/month and the average value is RON 36/transaction.
"Digitalization is more advanced in Romania than in France. I think Romanians have the enthusiasm of a new society. In France, because we have 50 years of history with the meal vouchers, the meal voucher is iconic. So to move people from something iconic to something new always takes time. In comparison, Romania is a fast adopter," says Bertrand Dumazy, CEO and chairman of Edenred.
"Edenred was the first issuers of meal cards in Romania in 2015. Around 60 percent of the business is currently digital. We want to educate Romanian market to use this technology," said Sintejudean.
Edenred representatives say that there is a high growth potential in SMEs segment for the benefits to employees.
However, Dumazy says that digitalization is up to a certain level more costly to Edenred, due to the move from economy of scale to diseconomy of scale, the loss of volume.
"When you are moving to digital from print, for example in Romania, the paper cost/unit is much more important due to diseconomy of scale. To move to digital means fixed costs, such as IT and the increase of employees number in the customer care service, therefore the cost/unit is high. We are adapting the digitalization level according to the country, " says Dumazy.
The representatives say that the gift tickets/cards Edenred Romania represent approximately 10 percent of the business.
But in in terms of the new generation, the millennials, Edenred says that the benefits they want from their employers are the meal vouchers, especially meal cards; even if over 50 percent of the Romanian employees don't take the lunch break, millennials like to take the lunch and use the meal vouchers; they also like the flexibility, easiness, to use the solution everywhere .
In Romania, Edenred is the first local meal benefits issuer since 1999, and currently serves more than 35,000 customer companies.
In the first nine months of 2017, 51 percent of the group operating revenue was generated in Europe, and 43 percent in Latin America.