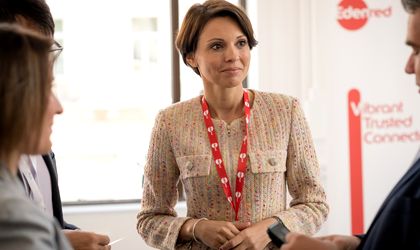 A study of Edenred and GfK from 2015 revealed that 56 percent of Romanian employees spend less than 30 minutes for lunch break.
Many employees skip the launch break because they say they are busy finishing the work.
In 2017, 20 managers and entrepreneurs from companies with over 20,000 employees joined the Edenred project "Come at 1 to lunch!" showing by personal example that the lunch break is a necessary habit for a healthy life.
The campaign "Come at 1 to lunch!" is at the third edition and promotes at the Romanian workplaces the daily lunch break.
The managers of the participant companies Eurest Romania, Foodpanda, General Electric, Groupama Asigurari, Ibis Hotels, Kaufland, Macromex, Marco Polo Cee, Mastercard, Mcguire Woods, Novotel, Romania Hypermarche (CORA), Romstal, Salad Box, Sanador, Smartree, UTA Romania, took the lunch break out of office during September 18-22.
Besides the healthy and productivity benefits of the launch break, there is also the socialization benefit that reduces depression, says Edenred. This was also confirmed by the participants of this campaign.
"The lunch break is not only a necessity for healthcare, but also a social ritual that brings people together. This is why we promote the daily lunch break among employees. It's a simple thing that has to be integrated in the social habits and the corporations and institutions' culture," said Dana Sintejudean, CEO Edenred Romania.
Mirele Stere, Macromex: "We got involved in the campaign because it's part of our habits to get the launch break. It was a socialization occasion."
Gabriela Balaci, Groupama: "When I heard about this campaign, I changed my mind regarding the lunch break, as I am one of the persons that don't have lunch, therefore I went to launch together with my colleagues."
Mihaela Ciupala, Mastercard: "It wasn't very difficult for us because we already have this habit, all our colleagues have lunch break. This leads to socialization and a more united team."
Radu Balaceanu, Foodpanda: "We are a technology and food company and unfortunately many times due to the busy schedule, we can't take the lunch break, but things started to change. I want for the next year to bring a new rule: no telephone at the lunch break, to socialize."
Adrian Stanciu, Smartree: "In our company, we have the lunch together, we socialize, we try not to be use our phones. Most of the times, we come up with good ideas during lunch, not only personal, but also business ideas, which is great. It's also a good brainstorming session."
Edenred is the supplier of transaction solutions for companies, employees and merchandisers. In Romania, it is a supplier of meal tickets and incentives for more than 1.5 million employees.