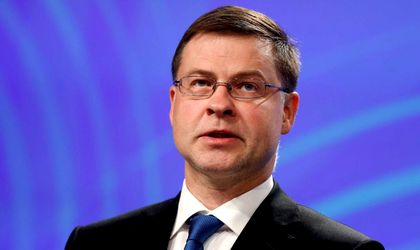 Valdis Dombrovskis, the European Commissioner Vice President for the Euro and Social Dialogue, attended the ECOFIN meeting in Bucharest and congratulated Romania for its performance in the first half of holding the Presidency of the Council of the EU.
He also talked about the recent Brexit developments and how the Commission has been preparing to mitigate the economic impact of Britain's departure.
"I want to say 'multumesc' to Romania for their skilful Presidency of the EU Council since the beginning of the year.  In its first 12 weeks, the Romanian presidency closed an impressive 60 legislative files and reached provisional deals on 12 more. So congratulations to them for this success!" Dombrovskis said at the top of his speech.
On Brexit:
"Recent developments have increased the chance of a no deal. Next Wednesday, European leaders will meet again to assess the situation. Since early on, we have called on the financial sector to prepare for all scenarios, and I call on you to complete preparations urgently in the coming days and weeks.
On our side, the Commission has acted to address financial stability risks, with temporary equivalence decisions for UK central counterparties and central security depositaries. Member States are also taking measures in areas of national competence, and we have provided them with clear guiding principles for action.
But it is also clear that we cannot mitigate all the economic impacts of Brexit.
This makes it all the more important to focus on shaping the future of the EU's financial sector. In Europe, capital markets are clearly less developed than they are in similar economies, like the US.
I am happy that on the Capital Markets Union we have managed to reach agreement on 11 out of 13 proposals put forward during this mandate. That is 11 concrete steps towards a single market for capital that can deliver real benefits for Europe's citizens, companies, and for our economy. I count on the next European Commission to continue to champion this project."