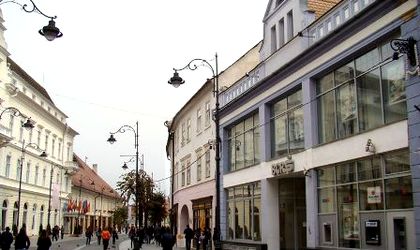 The EBRD is granting a loan of up to EUR 11.5 million to finance the upgrade of the road system in the city of Sibiu, one of the most important cultural centres in the country and a major transport hub in central Romania. 
The loan extended to the municipality of Sibiu will be used to finance the rehabilitation of a number of roads in the city, including the renewal of asphalt and pedestrian pavements and an upgrade of water and sewage pipelines along the streets. The investment is part of the EBRD's Urban Road Management and Rehabilitation Framework, aimed at supporting urban road sector reform in Romania.
The project also includes the construction of a new three-lane bridge in Sibiu with access for vehicles, cyclists and pedestrians. It will replace an existing wooden pedestrian bridge and will provide a key connection to the city centre for a large residential neighbourhood, helping to alleviate heavy traffic in the area.
The upgrade of the transport system in Sibiu will ensure a more integrated traffic flow in the city, improve accessibility for local residents and will enable the extension of public transport services in areas currently underserved in the city.
The project will be complemented by grant financing provided by the German Agency for Technical Cooperation for the preparation of performance based management and maintenance of roads (PMMR) contracts, which will be used for further implementation of Sibiu's street rehabilitation programme. This will ensure a more competitive and efficient approach to managing road infrastructure in Sibiu, which is expected to be replicated in other cities in the country. 
Since the beginning of its operations in Romania the EBRD has committed over EUR 4.8 billion in various sectors of the country's economy, mobilising additional investment in excess of  EUR 8 billion.