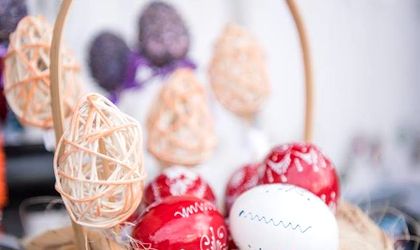 Orthodox Easter is celebrated this Sunday almost everywhere in Romania. There are several fairs organized by the Romania's municipalities, from where people can buy Easter gifts and where can enjoy a walk with their families, their dear ones.
The Easter Fair organised by the Bucharest City Hall will take place until April 9 in Herastrau Park. This edition is dedicated to celebrating traditional art and authentic Romanian values. At the fair you'll be able to buy traditional products, see various concerts and shows, and the kids will be able to attend creative workshops and see real lambs and rabbits.
Sibiu fair gathers this year 50 exhibitors, a record number. They bring a range of products for Sibiu citizens and tourists: from decorating candles, Easter decorations, hand-made jewels, traditional costumes, to Dutch cheese, sweats, pies, pancakes, pickles, chocolate, donuts, grilled sausages and burgers. In the center of the fair is the entertainment area, which includes a traditional carousel and a train for children. Not only children will travel by train, but also adults can enjoy Sibiu landscapes from a touristic train that will give visitors a ride in the medieval center of Sibiu. The fair is open until April 10, from 10 AM to 6 PM.
One of the most beautiful fair is in Oradea, where the event comes with many surprises and a record number of exhibitors, out of which 35 percent traditional producers from Bihor. There will be workshops of eggs decoration, meetings with the Easter bunny, theater for children and dogs acrobatics. The fair is open until the next Monday.
Last, but not least, a beautiful fair is also in Bistrita municipality, placed near the Evangelic church. The organizers aim to delight tourists and Bistrita citizens with traditional food, such as traditional Easter treats (pasca and cozonac), as well as bread baked on cabbage leafs, pies, jams, cheese, smoked trout and Romanian alcoholic drinks (tuica). Here visitors can also enjoy the Easter decorated eggs, traditional hand-made clothes and hand-made jewels. The fair is open until April 7.
If you choose to travel during this Easter mini-holiday, don't miss these fairs! Enjoy the Romanian traditions and Romanian authentic products that make the country popular!